Georgia Senate Runoff Results and What they Mean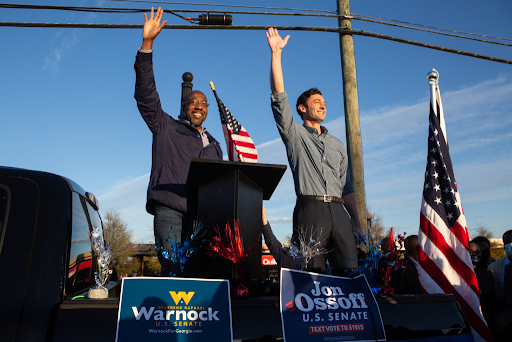 The final battle for control of the senate was on January 5th for the Georgia State Senate runoff race. The incumbent senators Kelly Loeffler and David Perdue of the Republican Party were faced up against Democratic candidates Raphael Warnock and Jon Ossoff. This intense senate race was unlike others because it would determine what political party had majority/control in congress. 
There was already Democratic majority in the House of Representatives but if both Democratic candidates Warnock and Ossoff won the election, the senate would consist of 50 Republicans and 50 Democrats. In that scenario, the tiebreaker vote goes to the vice president, hence a Democratic vote by Vice President-Elect Kamala Harris. This explains the nail biting pressure this election has placed on Democrats and Republicans alike for the fight over control of the senate. It was finally time to vote…
Results are in – Blue Wins!
The tension in this election shown above proves why it was crucial for the Democratic Party to elect both of their candidates. They were successful in their efforts as the election was called a win for both Raphael Warnock and Jon Ossoff. Warnock beat current Senator Loeffler 51% to 49% and Ossoff won against Perdue 50.6% to 49.4%. This was a groundbreaking election as it has given Democrats control of congress in addition to the President-Elect Joe Biden who is also part of the Democratic Party. Georgia has not voted blue since 1992 so who played a role in flipping the election?
Who Helped Flip the Peach State
A massive reason for Georgia turning blue was the determination of voting rights activists. The most recognizable figure that helped flip the state was Stacey Abrams. Previously the minority leader of the Georgia state house, Abrams set out to increase voter turnout after her loss for the state's governor in 2018. With her New Georgia Project and Fair Fight, Abrams has helped register over 800,000 voters. She also raised 6 million dollars for the successful senate runoff races. Another large contributor to the Democratic win was the WNBA Atlanta Dream team that endorsed Warnock by wearing "Vote Warnock " shirts at a game despite his opponent – Kelly Loeffler being the team's co-owner. Adding on, the late congressman John Lewis helped advocate for people to get out and vote knowing that if that happened his Democratic Party would win the election. The New York Times shares, '"My friend John Lewis is surely smiling down on his beloved Georgia this morning, as people across the state carried forward the baton that he and so many others passed down to them," Mr. Obama wrote in a statement, referring to the Democratic congressman and civil rights activist who died in August." With the help of all the voting rights activists above, the state of Georgia was able to turn blue. 
County by County
By encouraging more people to vote and helping them register, the activists above were able to increase votes in black communities and help blue counties take the lead. But which counties played a large role in the turnout of this election? Mainly counties surrounding Atlanta, including DeKalb, Fulton, Clayton, and Gwinnett counties. These countries typically consisted of younger, African American populations that are more likely to vote blue. To specify, the goal for these counties was to attract the same number of votes as the general election – because Biden won that – and spike interest in the senate election to increase the Democratic vote. Who exactly did these counties vote for?
Know Your Representatives
This will be the first time both candidates have ever held public office. Ossoff was a documentary filmmaker and congressional aide prior to this race. The Washington Post claims Ossoff, "will be the youngest newly elected Democratic senator since Joe Biden in 1973." Specifically, Ossoff wants to focus on criminal justice reform, health care, immigration reform, environmental efforts, and more while in office. The other elected senator, Raphael Warnock, previously was a pastor at Ebenezer Baptist Church in Atlanta, the same church that Martin Luther King Jr. used to preach at. Similar to Ossoff, his mission is to focus on criminal justice reform, agriculture, voting rights, health care, and more. Additionally, the Washington Post informs that Warnock, "will be the first African American Democratic senator from a former Confederate state." Now that the candidates have been chosen,  what's next?
A Fresh Start
It was a long haul to turn Georgia back to the blue state it once was and that truck has finally arrived at its destination. With control of congress and power in the presidency, Democrats can now get to work with reforms, COVID relief packages, laws, and more. Future senators Jon Ossoff and Raphael Warnock played a large role in this shift of power for our nation, congratulations to them!
About the Writer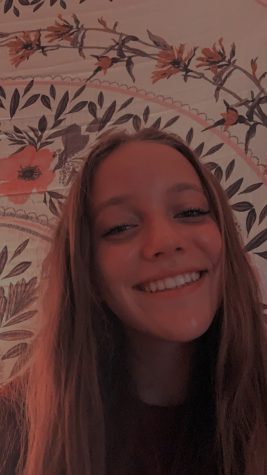 Lizzy Crawford
Lizzy is a sophomore at Horizon High School. She finds enjoyment through skiing in the winter and running cross country at Horizon. She is a devoted sports...