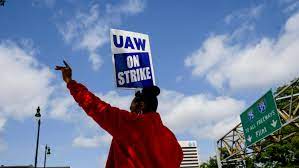 On September 15th of this year, the United Auto Workers Association went on strike against the three major automakers. The reasons for the strike is that the Three Major utomakers, General Motors, Ford, and Stellantis, had failed to meet the UAW negotiations, prompting for the UAW to walk out in Missouri, Ohio, and Michigan. About 12,700 people are currently on strike right now, leading to the first major industrial strike since 2019.
The issues surrounding this have been long-standing and avoidable. Negotiations between the UAW and the Three Major Automakers had been going on for weeks, and the contract between the UAW and the Three Major Automakers had expired on September 14th at midnight. During the negotiations, the UAW had demanded for a 36% wage increase in order to keep up with the rising inflation rates- where previous pay had instead remained at a standstill amidst the rising cost of living. Furthermore, the UAW has also demanded job security, a 32 hour work week and an end to the use of temporary workers. 
The Three Major Automakers have stated that the UAW demands are "unreasonable", and that the Union has refused to meet them on any of the negotiations. Profits amongst the Three Major Automakers have risen by an average of 34% before the strike, and the companies did agree to raise the workers wages, however, the UAW has stated that the raises would not keep up with the rising cost of inflation.
Story continues below advertisement
President Joe Biden is expected to deliver a speech about the UAW strike in the coming days, and has stated that he supports the UAW's right to strike. He has stated that the "record profits" the companies earned "have not been shared fairly, in my view, with those workers". It is expected that Biden will side with the UAW as he attempts to have the union and the company's return to negotiations.
More developments are to come to this story, as we will see whether or not the strike will reach further into the country.