Hurricane Ian Hurricane Anniversary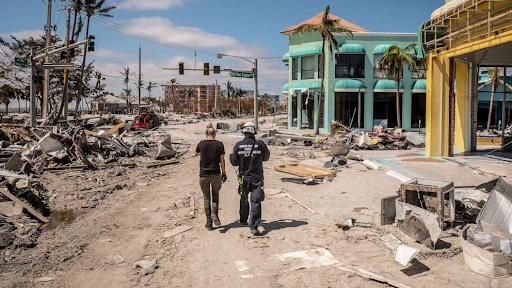 Fort Myers Beach, Florida struggles to recover from Hurricane Ian 
It has been six months since Hurricane Ian struck Cuba and moved its way to Florida. Hurricane Ian was the deadliest hurricane to strike Florida since 1935 (Labor Day hurricane). Now, six months later, people are still recovering from the catastrophic damage. 
Ian was first a tropical storm that formed in the Caribbean on September 23, 2022. Then it turned into a hurricane on September, 26, 2022. On the morning of September 28, 2022, hurricane Ian was categorized as a level 4 hurricane. This means that winds range from 130 mph to 156 mph. These winds are strong enough to rip off roofs to houses and walls. A category 4 hurricane will leave catastrophic damage to areas for long periods of time. It is a person's worst nightmare to experience. It was reported that there was 12-18 feet of water in Southwest Florida (Fort Myers area). 
Florida was not the only state impacted by the hurricane, rather it was one of the many places Ian hit. Overall, over 4 million people lost power and there are over $47 billion dollars worth of damages. Now, it has been 6 months since the Hurricane hit. Let's take a look at the progress. 
I visited Fort Myers beach at the end of March of 2023. The beach and surrounding area was completely wiped out. There were not a lot of stores and restaurants open. To be exact, there were two souvenir shops open, one of which opened three weeks ago and two restaurants. As for the rest of the town, it was in rubble. Stores and restaurants that once stood were sitting in piles on the ground, there were fences guarding the outside public from going into the destroyed buildings. It was so sad to see a beautiful city in piles of trash. As for the beach, there was a memorial for those who lost their lives. Also, you had to wear shoes because there is glass everywhere due to the hurricane. I saw people with metal detectors on the beach trying to scrounge for items that were lost in the hurricane. One of the biggest surprises was the Fort Myers Pier. The pier was completely destroyed and the only thing that remained was the structural poles that held them up. 
Fort Myers still has a long way to go to fully recover from all of the damages. While it is sad to see, it is nice to see the community coming together to bring light back into their homes.