Biden's Declining Approval Rating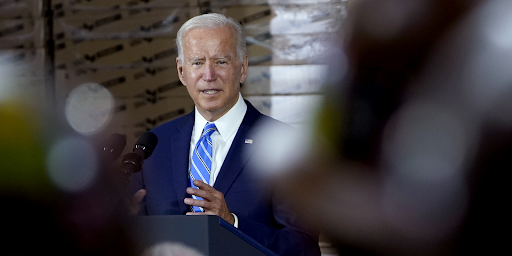 With the first year of Joe Biden's presidency coming into full swing in the month of October, it is important to look at the current president's standing for opinion polls. For context, opinion polls analyze what voters are currently thinking and what their current beliefs are standing. What do opinion polls define about the Biden administration currently and how are the opinion polls showing Biden's standing with the American people? Well, it isn't great for Biden. 
Biden's Collapse: 
At the beginning of Biden's presidency, his approval rating was fairly decent and much better than his predecessor, Trump. To put this in perspective, Biden began his presidency with a 55.5% job approval rating and a 36.0% disapproval rating according to RealClearPolitics as of October 24th, 2021.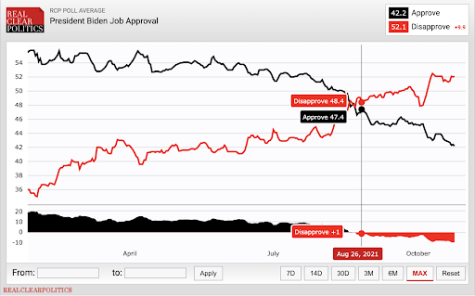 Biden began his presidency as a relatively popular government official with around a 54% approval rating as a baseline throughout the beginning months of his presidency. However, the disapproval rating continued to trickle up until it skyrocketed over the month of August. At the end of August, President Biden's approval rating was officially underwater in the RCP average, and hasn't recovered since that specific circumstance. 
A significant contributor to the decline in Biden's popularity is related to political polarization. According to Gallup, Biden began his presidency with a 61% approval by independents. However, in October 2021, Biden had only a 34% approval by independents. This added onto the 4% approval from Republicans indicates a strong dislike of the President. Biden's "honeymoon period" is officially over because of this distaste over time.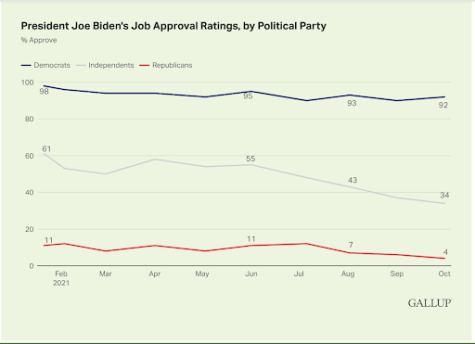 What Exactly Happened to Biden?
What exactly caused the President to have a major slip in his approval rating? Well, there are numerous reasons, but the major reason is frustration with Biden's agenda being halted and nothing large changing within the government. The stalling of his infrastructure bill and lack of significant actions have engulfed this presidency. There has also been a large increase in Covid-19 cases, skepticism around his withdrawal from Afghanistan, and the current havoc corresponding with the supply shortage crisis. 
According to CNN, "Some of those developments — most notably the emergence of the Delta variant and its ravaging of the unvaccinated in the country — aren't Biden's fault. But when you are president, you have to take the blame for what goes wrong in the country — whether or not it's your fault. And that's where Biden finds himself." This is a significant and important detail. The rise in Covid-19 Cases point to the President's detriment. Even if the case numbers aren't necessarily the President's fault, it emboldens voters to turn against the President because there hasn't been the "return to normalcy," that Biden highlighted throughout his campaign when he was running against Former President Donald Trump. 
Alternatively, Biden's approval rating took a significant hit after his withdrawal from Afghanistan when he swiftly removed troops from the entire country. Consequently, the decision did return troops home from the Afghanistan War but resulted in the collapse of the Afghan government due to the power of the Taliban within the region. Voters treated Biden's decision as a significant foreign policy blunder which resulted in a negative impact for his presidency. This further spiraled his approval rating.
Conclusion:
The main takeaway for the Biden administration is that after the several beginning months of his presidency, he has gotten significantly unpopular. Numerous Democrats blame these approvals on the lack of substance coming out of Washington, and plan to go full steam ahead for new measures in order to resonate with voters. Republicans blame this on radicalism within the Democratic Party. All of these highlight key details of polarization in Washington, which directly affects Biden's Presidency. So, how will this affect 2022 Midterm Elections and the 2021 Virginia Gubernatorial Election? How will this affect the plans of the Biden Administration including key policy goals like Build Back Better? Only time will tell.