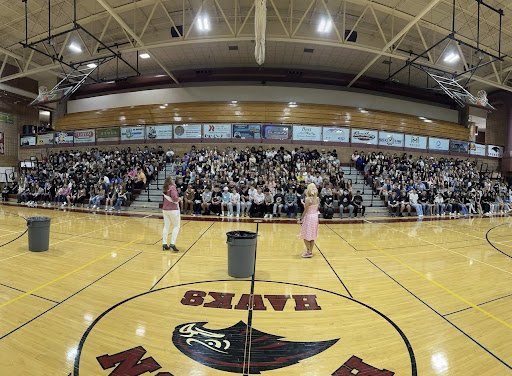 Class of 2027 Journeys Begin
Class of 2027 has just begun their 4 year journey at Horizon High School, new environment, and new people, there's many different things that they have to adjust to. It can take some time, but before they know it… they will be walking across the stage and getting handed their diploma. Incoming students of Class of 2027, are about to experience a whole new chapter of their lives, including more freedom. They get to participate in school athletics and activities, experience football games, homecoming, prom and so much more. These will be the best and worst years of their lives, but never forgotten. The last 4 years before they go out in adulthood and give their life a path. 
Story continues below advertisement
Good luck Class of 2027!!
Interviews Questions and Answers:
The Profile: How was your first month here at Horizon?
Allison Bailey. : "It's been really good so far, the environment is good to be around"
Alayna Chicko : "It was not so good, I've gotten called some things… and I also broke my ankle, but otherwise I'm chilling."
Maci Rosenbrock. : "It was good, it's a new environment."
The Profile: Is Horizon what you expected?
Allison Bailey. : "Not necessarily, it's a lot more than I was expecting. But I wouldn't say it is a bad thing."
Alayna Chicko. : "Yes" 
Maci Rosenbrock. : "Yeah"