Cheer for Horizon!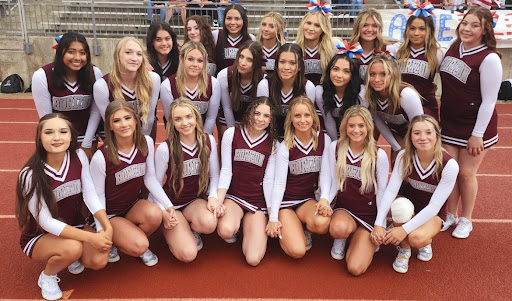 Game Day for Horizon Cheer, is a really special and personal moment. It is about showing school pride, it is about spending time with your best friends, it is about supporting  he athletes, and it is about connecting with the student section on a whole other level. As a team, cheer has to prepare for game day in a variety of different ways. The day before they go over cheers and stunts, ensuring that they hit and look perfect. They practice all their cheers on the sideline and go through a "game day" run through to make sure they know exactly what's going on at the game. With stunts, they also create sequences of elite stunt groups and show of their talent by making a pyramid at every game. Overall, Horizon Cheer values showing school spirit to amp up the crowd and the football players.
Oftentimes, they also have team dinners and bond as a team to deepen the connection they have with one another.
 Game day on its own can be stressful. There is a lot to go over and there are many things that could go wrong. For example, certain weather changes have an effect on whether the cheer team is able to stunt or tumble. But even if preparation is extremely nerve-wracking the team has many ways to relieve that stress and make it the best experience possible. They blast music right before the game and get hype and excited in order to show HHS spirit! "It's just about having fun," Freshman Ava Grace says. The team may put themselves under a lot of pressure but at the end of the day, they perform to have a good time and make special friendships for life.  
It is now thirty minutes before the game. What is cheer up to? They begin by warming up, tumbling and stunting and make sure they're one-hundred percent comfortable with their stunting groups. After that, with the remaining time they take pictures with one another and create memories they can look back on. 
(photo taken by HHS Yearbook)
Horizon Cheer also supports the teams by checking up on the football boys and asking how the 
game went. They create a bond and a small family with everyone and truly represent the school well. The football team is always involved with Horizon Cheer and they show them support as well. 
Special Interview with Varsity Cheerleaders: 
What is one thing you'll miss the most about Game Day?
"One thing that I'll miss about game day is being down on the field with my team as the sun goes down and the crowd gets louder. I'll miss being able to showcase my passion of sideline cheerleading and doing the cheers that I've been doing for almost 4 years now"
– Senior and Varsity Captain Elizabeth Walters 
"As a senior, one thing I'm gonna miss about game day is probably the environment of how happy people are on game day and at the game just the energy it's just so amazing and thrilling it's something that I'm gonna miss a lot" 
– Senior Isabelle Diaz
In the end, Horizon Cheer hopes to create a legacy between the community and the cheer team itself. They hope to continue to thrive and each year only get better and better. One of their many goals is to connect more with the school and place at state. 
LETS GO HHS CHEER!