Start of a New XC Season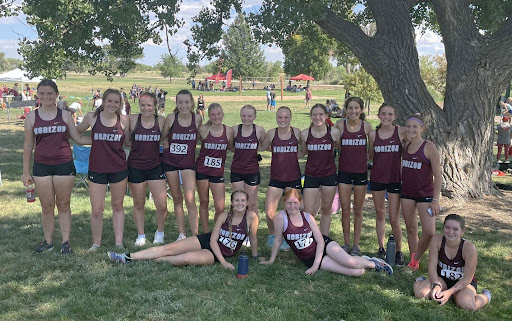 The beginning of a new school year can be thrilling for a large number of students including athletes. Sports at Horizon High School are a contributing factor  of the atmosphere. Students play many sports including Football, Tennis, Volleyball, Baseball, and many more. One of the sports included at Horizon High School is Cross Country. Cross Country mainly focuses on an athlete's ability to run long distances, including various tests in speed, endurance, and flexibility. But, what exactly is the main focus of Cross Country? What exactly is different about Cross Country compared to last year and years before that?
What Exactly is Cross Country at Horizon High School?
Cross Country is one of the various sports that can be played at Horizon High School that is specifically in Fall. It specializes in long distance running, including 5k races, getting personal records and competing against many other schools. Each 5K race takes place in different locations for the week including Colorado cities around Denver; which includes Littleton, Broomfield, Thornton, Fort Collins.
Cross Country involves a huge amount of endurance, experience in running, and racing speed. Each of these helps athletes complete the sport to their full potential. Speed is important for those making personal records, endurance to complete the race and experience to perform under pressure.
What Is Different Compared to the Previous Year?
Due to the spread of the Covid-19 Pandemic, Cross Country and various sports were altered significantly. This was notable because there were many courses that were cancelled. This included Liberty Bell and other meets that involved a large number of teams. Meets were more centralized within a local area with schools making their own courses, including Mountain Range, Legacy, and Horizon. There were also limits controlling the specific sizes of team meetings, lack of unique inclusion for banquets due to Covid-19, and the wearing of masks. Team meetings or dinners were practically cancelled for every sport. This didn't allow  for teammates to interMasks were critically important for athletes to wear at the Cross Country meets, and had to be worn even at the first 200m of a 5K race. All of these circumstances were due to the severity of the Covid-19 Pandemic.
Comparing this to the current season, there is still the presence and fear of Covid-19, but many of the regulations from the previous season have not been continued. There is also the ability for teammates and coaches to attend team meetings, not wear masks at the meets, and allow parents and friends to watch 5K races. It is also of importance that this applies to numerous outdoor sports at Horizon High School due to Adams 12 Five Star Schools lifting masks mandates for outdoor activities, even with that policy continuing indoors. There are also the famous Cross Country courses like Liberty Bell and many others that would be supported as well throughout the year.