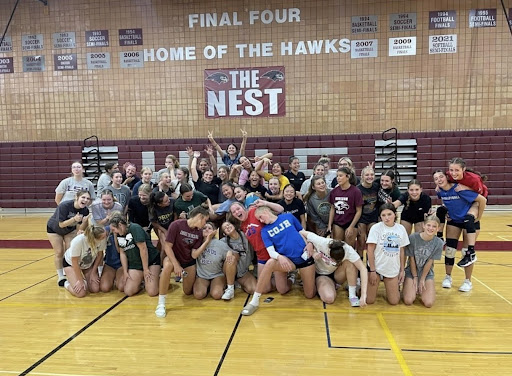 September 14th 2023, was the Horizon Hawk's Volleyball first official home game!
Theme: RED OUT!!! #LiveLikeEllen23
Story continues below advertisement
Come and pack the stands on September 26th  for our Hawks Volleyball Home Game !! 
Theme: Neon Out 
(Visit our Instagram page @hhshawksvolleyball for more information about games)
Freshman/C: 4:30
Jv: 5:30
Varsity: 6:30
Do your hawks a favor and pack the stands and attend our home game on September 19th 2023 and support our girls while they play the Prairie View Thunderhawks!! 
Our varsity has been working hard and have gone 7-0 sweeping every team they have played so far!! 
10 seniors will be experiencing their last volleyball season here at Horizon including…
Emerson Strain 

#11

Karis Oller

#13

Alexandra Guzman

#6

Samantha Siedlecki 

#9

Maiya Swanson

#7

Ella LaMura

#10

Marley Hermanson 

#4

Benecia Milinazzo  

#14

Masiela Cervantes

#2

Natali Saldana-Baldwin

#5
Congratulations to these girls who made our varsity team and the graduating class of 2024. Horizon Hawks girls volleyball program has been working extremely hard this season putting forth all the effort they can.  Good luck to the girls who have worked hard and fought for a spot on the 2023-2024 Horizon Hawks Volleyball Season 
Interviewing:
The Profile: What are you most excited for, for this season?
Aubrey Degney (10th Grade) "I'm mostly excited for all the home games."
Eliza Fillerup (10th Grade) "I'm excited for all the team spirit, away and home games, and for all the cheers that we get to do."
The Profile: What's one thing you have to say for our younger players? 
Aubrey Degney (10th Grade) "Be yourself out on the court, and don't let mistakes define you."
Eliza Fillerup (10th Grade)  "Be respectful of yourself and others, pick eachother up because when we are all positive and supporting each other it's a lot easier to feel more confident to win." 
To end things, our volleyball program is going to need your help this season, make us known!! Be one of the most interactive student sections there can be. Inform your fellow classmates when it's game day, its a great day to be a hawk. See you all soon!