If you've known me for a long time, then you know that I have an intense love of body horror and psychological horror. Stephen King, David Lubar, and MeatCanyon are some of my favorite horror creators, and got me started in the horrible world of gore and fear. I like to think of myself as a horror connoisseur- someone who knows every trope, genre, upcoming jumpscare and cliche. I like to think that I'm unshakeable in every way (when it comes to horror). But there is this one movie- this one monstrosity- that will always haunt me.
I was five years old when I first saw this movie, and it shook me to my core. I had nightmares. I had shaky hands at the mention of the name. I absolutely hated every aspect of the film, and I can vividly recall thinking Jesus, this is scary. Even today, this film sits in the back of my mind on a pedestal, plaguing my every thought and living moment, just because of how horrifying it truly is. I've spent years trying to understand the film, to figure out what went on in the Director's mind to release such a monstrosity- I've driven friends and family away as a result of the overwhelming obsession, and I am fairly certain that I've memorized every bit of lore about this movie as a result of it. 
The first "Spy Kids" movie is what I consider to be the peak of horror- monsters, humanity, and corporate greed, all put together in a little box and marketed as a kids film.
Released in March of 2001, Spy Kids follows the Cortez family; particularly the two children, Juni and Carmen, who discover that their parents are retired secret agents. Their parents, Gregorio and Ingrid, come out of retirement in order to help locate several secret agents. The film reveals that the antagonist, Fegan Floop, is capturing agents and turning them into monsters for his kids show. Floop is however, doing this simply because he wishes to spread joy to children, and by the end of the movie, is redeemed because his henchman, Minion, is dabbling in puppet governments. 
Story continues below advertisement
While I can spend ages describing how Spy Kids is a true Shakespearean tragedy in both its own world and our reality, what I would like to focus on today is the monsters. All of the monsters on Floop's show (known as FoOglies) are grotesque abominations that will forever haunt my existence; but I would also like to point out that these monsters are, despite what Floop says, all sentient humans– humans who were experimented on by Floop and Minion, and forced onto a show that they could never escape from. In fact, it is revealed in the film that when they speak, they are crying out for help from their audience, only for their pleas to be taken as lighthearted gibberish. 
In this article I will be ranking these unfortunate beings in a list, based on how much they scared me as a kid and whether or not they are still horrifying to me now.
6)  Thumbs Thumbs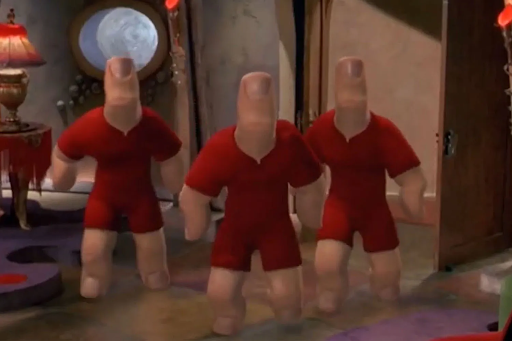 According to my research, the Thumb-Thumbs are what gave most kids nightmares. The Thumb Thumbs are "giant robot henchmen, made entirely out of thumbs", according to The U.S Sun. These are by far the least disturbing thing on this list. The Thumb Thumbs are simply robots, with very little sentience or fear factor to them. While one could argue that they are in fact alive based upon the Nurse Scene and the events of Spy Kids 3, that is in fact not the case. Spy Kids has shown that these things are easy to be dismantled and, by that logic, dead- but the official Spy Kids Wiki has shown that there are no on-screen deaths throughout the franchise, and we see Carmen and Juni massacring these things. For these reasons, Thumb Thumbs are the least scary thing to me.
5) Gregorio Cortez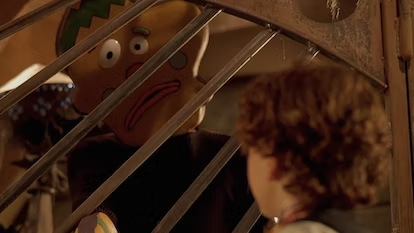 This was, and still is, one of the dumbest creations I have ever seen (and I'm writing this for content), on par with the Thumb-Thumbs. The only reason I even ranked this stupid-looking guy higher on the list is because it's sentient. For those who don't know, after being captured by Floop, Gregorio Cortez is turned into a FoOglie that is based off of his son's fanart of the show. First of all, the kid can't draw- he sucks at it. I get that he's eight, but Jesus, he sucks- he doesn't understand color theory, line art, or anything. Also, the kid's a ginger. There is no possible way this FoOglie could have turned out horrifying. The only horror aspect I can find in this less-than monstrosity is that Gregorio had to be awake during the entire procedure, and he had to endure being created into a stupid drawing. He was right to make fun of his kids drawing at the start of the film.
4) Too Too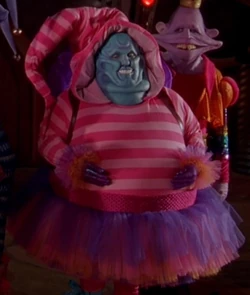 Absolutely horrendous. This grotesque creature is what haunted my nightmares as a child, and lurks in the back of my mind now. It's shorter than the other FoOglies, and is more human than the rest. Its front facing eyes and permanent smile freaked me out as a kid- but now, I can finally say that this is not as scary as it was before. Now, it looks relatively threatening, but not something that will be in my nightmares anytime soon.
3) Flower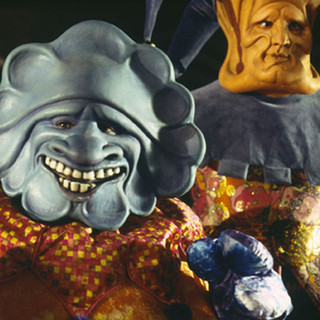 This guy scared me even more than Too Too, and continues to unsettle me. Its flower crown and smile that distorts its face, the psychotic look in its eyes, and its short arms and legs but front-facing eyes all scare me. If I were to see this thing on the street, I would accept my fate right then and there. There is nothing good about this thing- and its own existence is torture. This no longer resembles a person to me, but a monster instead.
2) Tall & Skinny
This thing is not human. It never was. I don't care what the Spy Kids Lore says, this thing is nothing other than a monster. When we are first introduced to this monstrosity, it's through Floops T.V show, where it's shown flailing its arms around sporadically and screaming- and this traumatized me as a child. This thing is the base of my fears- everytime I turn a corner, everytime I think I see something moving in the dark, and every guttural moan and scream I hear, I think, just for a second, that it managed to crawl its way out of my television and track me down.
1)  DonnaMight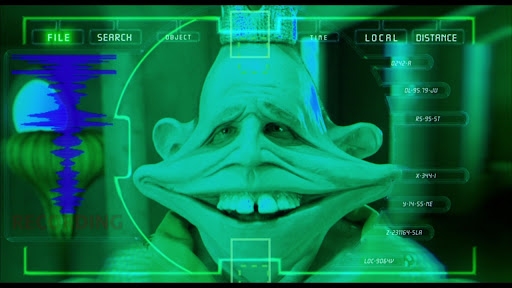 While not as scary-looking as Tall & Skinny, DonnaMight is the most horrifying of all. He is the harbinger of the Spy Kids franchise, and has the most heartbreaking lore out of any of the characters. He was turned into this thing because of a madman, and you can see in his eyes that he was a human- a human who was just at the wrong place at the wrong time. After the movie, he would later become the antagonist of Spy Kids 2: The Island of Lost Dreams- attempting to steal a device to shut off all electricity in the world. This is a result of what happened to him when he was turned into DonnaMight. The process of being turned into a FoOglie requires a large amount of electricity- and is incredibly taxing on the mind and body. Is it so hard to believe that after the events of Spy Kids 1, after being offered no help or therapy, and after knowing that the man who had turned you into a monster is allowed to walk free, is it so hard to assume that this man attempted to turn off all of electricity in order to not allow this tragedy to happen again? DonnaMight is a tragic character, and is by far the most horrifying on this list.