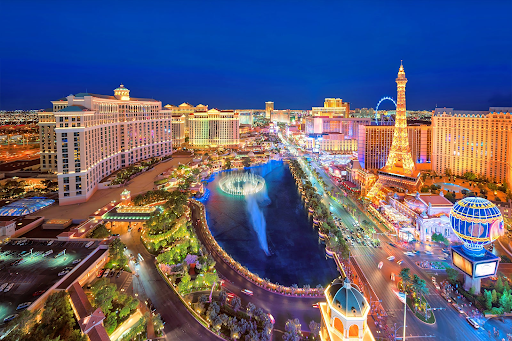 Guess what? It's your parent's anniversary, and they're going on a celebratory trip to Las Vegas, Nevada! Normally you'd stay home, as you have in the past when they've gone to Vegas, but now that you're in high school, you're old enough to go with them! Or, so it seems, as the moment you turn down the Boulevard you realize why everyone calls it "Sin City". Most of the, for lack of a better term, "activities" of Las Vegas require you to be 21 or older to attend. You can't even step onto the casino floor that spreads across the ground level of your luxurious hotel. You begin to wonder why you agreed to go- there's nothing for you to do here, as Las Vegas caters to an adult audience, so how will you ever cope with this trip?
I've been to Vegas twice and have experienced this feeling firsthand. What fun is the famed city if you have to be at least 21 to do anything? However, I haven't been bored on my trips- Las Vegas is full of things to see and experiences to have even if you are not yet 21. I've decided to impart these experiences to you all in hopes that you will find use in my suggested activities. So, without further ado, here are a few things you can do in Vegas as a teenager!
Story continues below advertisement
Cirque du Soleil Shows
Las Vegas is home to dozens of shows that are set year-round in resorts. For people who like theater and exhilarating stunts, Cirque du Soleil's shows are the perfect thing to attend! Famous for putting on shows involving intense and dangerous stunts, navigating across moving platforms while dancing through spinning contraptions. The shows are fun to watch for anyone, especially theater fans or those who just like to be Wowed.
I've seen Cirque du Soleil shows both times I've been to Vegas. The first was The Beatles LOVE, an acrobatic spectacle set to hits by The Beatles that features skateboarders, unicyclers, trampoliners, and a sad guy with flowers visualizing each song. The second, Ka, was a more story-driven performance of twins separated in battle and going through independent coming-of-age journeys as they search for each other, complete with the typical stunts of the Cirque du Soleil trademark. Both of these shows were worth watching- their dazzling acrobatics skills and the flips, hovers, and balancing acts kept me on the edge of my seat while the set design kept me immersed in the theatrical world.
Other Cirque du Soleil shows live in Vegas, such as O in the Bellagio Hotel and Mystere in the Treasure Island Hotel. Any one of the shows is bound to provide an exhilarating and fun theater experience.
Area 15
There's a reason this building's name is derived from the conspiratorial "alien base" of Area 51. The moment you walk in you're greeted with a dark lobby lit by blacklights and neons, giving off a sort of funky alien-like feel. Area 15 is a self-described "experiential entertainment district", featuring restaurants, concert venues, VR experiences, sporting events like axe-throwing and golf, and multi-dimensional retail outlets that can seem to push the boundaries of reality. Minus the few bars in the facility, everything is teenager-friendly, with photographs and videos encouraged and enough stimulation to keep its guests thoroughly entertained.
My favorite part of Area 15 has got to be Omega Mart, the interactive art experience by the entertainment company, Meow Wolf. While on the outside it seems to just be a grocery store sporting odd products such as Omega Mart LemonsTM, Tattoo Chicken, Gender Fluid, and Happles, one quickly discovers by walking through one of the freezers that Omega Mart's story goes deeper than their parent company wants you to believe. Meow Wolf art installations are like walking into another dimension with all the dazzling lights and weird but beautifully crafted scenery – and unlike other art exhibits, you can touch everything. Omega Mart is two stories full of weird, captivating art that takes you on a multi-dimensional journey as you learn the dark truth of the store's strange nature. 
For fans of art and storytelling who love figuring out a good mystery, Omega Mart is the perfect place to visit. And for those just looking to experience something bizarre, check out the entirety of Area 15.
The High Roller
One of the most noticeable parts of Vegas is the High Roller, the giant Ferris Wheel that allows you to look over the entire strip when at the top. I have never personally been on this Ferris Wheel- when we got there, I chickened out at the thought of having to share a cabin with strangers for half an hour- but from the reviews that I've read online, it's worth the price.
The cabins fit about eight people and are very spacious, allowing you to walk about freely. The ride takes about 30 minutes and takes you up to 550 feet above the ground, giving what I've read is a phenomenal view of the Las Vegas Strip, before returning you to the ground. Going on the High Roller gives you a perfect opportunity to get some gorgeous photos of the strip as well as the opportunity to just see Las Vegas from a bird's eye view which has been said to be quite a great way to see it.
Shopping and Dining
There are plenty of places to eat and shop all across the strip, and even if you don't go in for the express purpose of splurging you can still delight in visiting these shops. Besides the usual expensive hotel shops, there are many other sorts of off-to-the-side shopping strips that are just as entertaining.
One place I would suggest is The Linq for both its dining and shops. There's a two-story candy store called I Love Sugar along this strip that has just about every candy you could ever want, with little crank stations where you can fill bags of different types of candy. (Though personally, I like the little Pac-Man candy tins). There's a sock store, a VR experience place, clothing stores, and even a cookie place called Honolulu Cookie Company. There are also numerous restaurants, from a hot dog place to a diner to a few brew pubs including a Yard House (which makes delicious nachos with barbecue sauce!).
The resort shopping malls are fun to walk through as well. Popular brand names like Gucci and Louis Vuitton make for a sort of regal feel to shopping, and even if you're like me and can't afford any of the designer clothes, the experience of just walking through a fancy mall is enough to put someone in a good mood. For a few hotels, such as Caesar's Palace and the Venetian, the malls are intertwined with gourmet restaurants (and even a Cheesecake Factory in the former) that can add a bit of flair in the form of fine delicacies to your shopping trip.
It may seem trite, but the shopping experience in Vegas is fun for everyone.
Gelato!
It's impossible to miss the gelato stores around Vegas. From name-brand restaurant chains to hotels' all-you-can-eat buffets, you're bound to run into a gelato joint at some point in Vegas. Considering how hot a strip along the middle of a desert gets, gelato bars offer a nice way to cool down. They sport dozens of flavors, each adorned with a piece of fruit or chocolate or other food that represents its flavor for a little extra showiness, because, you know, Vegas.
Cocolini is the most ubiquitous ice cream bar- you can find one in nearly every hotel. I've tried their gelato once before- chocolate gelato- and it was pretty good. I love how many flavor options they have and how fancy they make all the little gelato cartons look. Getting gelato in Vegas almost feels like a right of passage just due to the sheer amount of gelato bars everywhere.
So there you have it! There are plenty of ways to enjoy Vegas even if you are not the age for gambling. I hope my tips are at least somewhat helpful and that someone out there can feel better about going to Vegas with their family and not being bored out of their minds. There's much fun to be had in the city of never-ending twilight and little bribes!
(Image credits: au.hotels.com, meowwolf.com, tripadvisor.com, cocolinigelato.com)