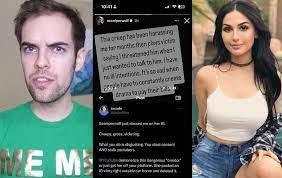 On October 13th, 2023, Alia Shelesh, better known as SSSniperwolf, doxxed another Youtuber by the name of John Douglass, also known as Jacksfilms. This has infuriated people across the country (and probably beyond), but what really happened that fateful night?
To start off, let's see the people involved in this situation. SSSniperwolf is a 31-year-old Youtuber who is known for her reaction content. However, many people have started to question her content's legality, as her reactions never add any value to the content itself and she never credits the original creators. This is called content theft- the process of taking another person's content and using it to make money for oneself. However, there is a line that can make the content okay to monetize by transforming the content into something new. But, as SSSniperwolf's reactions are basically just describing what is happening in the video, many have claimed that it is content theft. Many other Youtubers have called out SSSniperwolf on this behavior, but one stands out as important- the other person in this case- Jacksfilms.
Jacksfilms is a 35-year-old Youtuber who makes comedic sketches. He created a channel named JJJacksfilms (a parody of SSSniperwolf) that was made to call out SSSniperwolf's behavior by reacting to her content and trying to credit the creators she failed to credit. This caused a feud between the two creators, such as SSSniperwolf calling Jacksfilms sexist and bigoted.
Story continues below advertisement
After months of this situation dragged on online, SSSniperwolf made an Instagram story asking if she should go "visit" Jacksfilms. The poll ended up on "yes" and she posted another story in front of Jacksfilms's house. Jacksfilms was streaming at the time but when his followers made him aware of the situation, he abruptly ended the stream, later posting on Twitter calling her disgusting (see photo attached). SSSniperwolf quickly deleted the story and posted another one saying that she had no "ill intentions" and "didn't know how to dox". Many have continued to call her out, where she made a few more unsavory stories about the situation.
While this has been happening, YouTube was remaining quiet about the situation until they crowned SSSniperwolf as Creator of the Year. This led to so many people being outraged at YouTube, making them backpedal by temporarily demonetizing her channel. While this wasn't enough in the eyes of the consumers, it did open SSSniperwolf's eyes because she finally released an apology on Twitter only after hearing of her demonetization. This, however, wasn't enough because the consumers were well aware that she just wanted her monetization back.
The team of The Profile are sending wishes to Jacksfilms and his family and hope that SSSniperwolf gets proper punishment for putting the lives of Jacksfilms and his loved ones at risk.