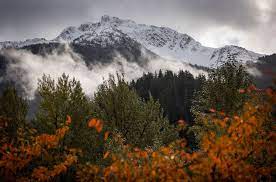 Fall is by far one of my favorite seasons of the year. The weather is cooling down and Christmas is right around the corner. Summer is fun and all, but in fall, there's many more things to do, like going to haunted houses (best thing ever), going to pumpkin patches and picking a pumpkin to later carve, later baking the pumpkin seeds. You get the feel of the cold crisp air taking over the summer heat. Leaves start to turn orange and red and then slowly fall to the ground. Then raking all of them up and then proceeding to jump into them.
One of the main reasons fall is one of my favorite seasons is because I know that Christmas  is right around the corner! October-December is one of the best times of the year, no doubt. You get to see the season change from hot sunny summer, to cool crisp fall. Proving that fall is people's favorite season, nearly double the amount of people who say fall is their favorite season, which is 47%, 24% of people saying summer with 11% saying winter., and 33% saying spring.  October from December is the best time of year because that is when a majority of our holidays are celebrated, including Halloween, Thanksgiving, Veterans Day, Christmas Eve/Christmas, and finally New Years.
So, I think it's pretty self explanatory on why fall is my favorite season and one of the best overall. There could be many other reasons from other people on why fall may be their favorite season but these are just of few of my reasons.
Story continues below advertisement