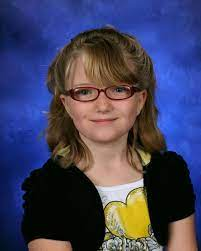 October 5th, 2023 marks 11 years since the tragedy of the 10-year-old Jessica Ridgeway. Some may not know this story, but I certainly do, and I honor the young girl's life who was taken too early by wearing the color purple. I was only 5 years old, about to turn 6 when the news broadcasted the missing girl. 
Biography of Jessica Ridgeway
Jessica Ridgeway was born on January 23rd, 2002 in the state of Colorado. She was the daughter of Sarah Ridgeway and Jeremiah Bryant. Jessica was raised in Westminster, Colorado, where she attended Witt Elementary School. She was a happy, joyful little girl who loved the color purple. 
Story continues below advertisement
What Happened to Jessica? 
On October 5, 2012, 17-year-old Austin Sigg took a little girl's life away. Jessica was playing with snow at the park near her home which was near where Austin lived. As she was walking back from the park, Sigg was camped out in his vehicle waiting for the right time to grab Jessica. Once he pulled her into the backseat, he tied her hands and legs together with zip ties. He kept telling her everything would be okay but that didn't end up being true. He took Jessica to his house where he made her change out of her clothes and put them in her backpack. After she put her items into her backpack, Sigg told her to run away from him. Then he strangled her till her last breath. When Sigg realized that Jessica was deceased, he dismembered her body and hid her remains in his pool shed. 
How Did They Find Her?
Two days after Jessica Ridgeway went missing, investigators found her backpack on a sidewalk in the Rock Creek neighborhood in Superior. Her glasses and urine-scented clothing were in the backpack. On October 12, 2012, Austin Sigg placed Jessica's torso in two black trash bags and left it on the side of 82nd Street in Patridge Park Open Space, Arvada, Colorado, which was 9 miles away from her home. Once the police grew closer to Sigg's neighborhood, his mom's friend called the FBI to report that she recognized the wooden cross from a photo that was found with Jessica's body. On October 23, 2012, Sigg told his mother that he killed Jessica. Austin Sigg was arrested and taken into questioning. The investigation was terrifying, but at least Jessica Ridgeway's friends and family were able to get justice for her. Sigg did later confess that he sexually assaulted her as well. 
I was only in elementary school when this tragedy occurred but I remember it like it just happened. This was a horrific thing that happened to a little girl and her family/friends, that nobody should ever go through. Remember: NEVER talk to strangers, NEVER walk alone, NEVER go somewhere without telling someone, and ALWAYS be aware of your surroundings.