The Bad Batch's Adventures Come to a Close (For Now)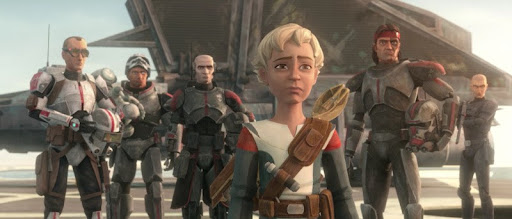 Disclaimer: This article contains spoilers for Star Wars the Bad Batch and is also a part three! If you haven't read the first two articles, read them first!
When the Bad Batch first started streaming, many fans were not expecting it to take the direction it did. As the show continued, the episodes became more and more intense and were filled with cameos from lovable characters. During the last six episodes of the show fans saw so many memorable characters. There were also some plot holes in the overall Star Wars canon that were filled so that everything from The Phantom Menace to the Rise of Skywalker could flow smoother. 
Devil's Deal
This episode had a few friendly faces that nobody could have expected to see. It starts on Ryloth which is the home of the star wars species called the twi'leks. Admiral Rampart is speaking with Cham Syndulla who is first seen in Star Wars: The Clone Wars and then later makes an appearance in Star Wars: Rebels. He is the head general and freedom fighter on Ryloth who works with the planet's senator, Orn Free Taa. Along with Cham we get to meet his wife Eleni Syndulla. In Rebels we see a family picture with her in it, but she was never referred to by name. It was definitely surprising to see her show up. We also saw one of Cham's close friends, Gobi Glie, who is also seen in both clone wars and rebels. 
Since we've seen both Syndulla parents it was no surprise that we saw their daughter, Hera Syndulla and her droid, C1-10P aka Chopper. Both Hera and Chopper are important characters in the show Star Wars Rebels. Many fans jumped with joy when these two showed up. Many fans agree it was amazing to see Hera's origin especially since we saw her lover's, Kanan Jarrus. In this episode we get to see how Hera dreams of being a pilot and living on a star ship which was cool to see since in Rebels she is an amazing pilot who lives on a star ship. 
Back to Orn Free Taa he is the senator of Ryloth. He can be seen several times in the prequel trilogy as well as making several appearances in The Clone Wars. From the clone wars we also know he and Cham have a very complicated and rocky relationship and that continued in this episode. It was nice, but not surprising, to see Dave Filoni stay consistent. 
Another character that made fans smile was the new clone captain who makes an appearance. In this episode we had the pleasure of meeting Captain Howzer who we learn has been stationed on Ryloth for a few years and has grown close to the Syndullas. There is also the theory surrounding him that he got his inhibitor chip removed. The fact that he removes his helmet, something that has always symbolized individuality in the clones, several times in the episode was something that tipped fans off. Especially since he is surrounded by clones who are acting as they normally would with the chip. 
This episode also had the return of Crosshair who has a nasty scar from being burned in episode eight. He also plays a larger role in the episode than the rest of the batch. Maybe since Hera's parents were captured they will play a larger role in the next episode. 
Rescue on Ryloth
This episode was a continuation of the previous episode. Hera, having met the bad batch briefly in the previous episode, called them begging that they help her save her parents. They reluctantly agreed. This was something that was nice to see since in Rebels Hera mentions that she was helped several times by clones which was probably talking about the Bad Batch and also Captain Howzer. 
Speaking of Howzer this episode all but confirmed his inhibitor chip is at least malfunctioning. Hera was on the run and Rampart was sending people to hunt her down and he specifically asks to be the one searching and later reveals it's so he can protect her. He also, after the bad batch frees Cham, Eleni, and the rest of the "rebels", chooses to stay behind so he can try and get through to his men. Because of this he ends up getting arrested and that's the last we hear of him for the rest of the show. 
Although Howzer sacrificing himself was a tragedy the episode didn't end completely sad. Many fans were pleasantly surprised to see Eleni Syndulla survived. Many fans predicted that she would die since she was killed before Rebels and Hera said it was by the Empire's hands. However seeing her survive was definitely nice but at the same time there is the heavy weight of knowing sometime between this episode and Rebels the empire kills her. 
Infested
Episode 13 was definitely a nice breath of fresh air from all the drama that had been happening- at least drama between the bad batch and the empire. In this episode when the Batch returns to Ord Mantel they find Cid's Parlor has been taken over by a devaronian named Roland. However, funny enough, many fans originally mistaked Roland for a different, more well known, devaronian from Rebels, Vizago. However they are far from the same person. In fact we find out he is partnering with the Pykes who are a crime syndicate in the star wars galaxy. At the end of the episode, because of how things went with Roland, we can probably expect to see him again in season two. 
Back to the Pykes. The Pykes show up several times in Star Wars: The Clone Wars and, as mentioned earlier, they are a crime syndicate. They were also one of the large crime syndicates who teamed up with Darth Maul while he was the leader of Mandalore. They however were known to be at odds with the separatists. They are also known for the spice they are so protective and possessive of. 
War-Mantle
The episode War Mantel is named after Project War Mantel from the early ages of the Empire. This was the transition between clone troopers and stormtroopers. The Empire started filtering clones out and replacing them with people who willingly joined the Empire. The empire, Admiral Rampart specifically, explained that people who willingly sign up to fight for the empire will be more loyal than those forced to fight for it.  In this episode we see clone Commandos training soon to be stormtroopers. 
One of these clone Commandos is the beloved Captain Gregor. Rex called up the Bad Batch and explained he had a friend who needed help, the friend later revealed to be Gregor. Captain Gregor is first seen in season six of the clone wars where he had amnesia and was working as a dishwasher. After he got his memory back he was caught in an explosion that many believed killed him. However when we saw him again in Rebels that showed he indeed survived although he was acting a little crazy. We see he is already going crazy in the bad batch. It was confirmed that although he did survive he suffered brain damage. 
In this episode, Dave Filoni also did some clever foreshadowing for Rebels. In Rebels, Gregor gets shot in the chest and dies. In this episode during a shootout with some of the commandos and stormtroopers Gregor gets shot in the chest. The area he gets shot is exactly the place he gets shot and killed in Rebels. 
At the end of the episode Hunter ends up falling into imperial hands and Crosshair implies he will be able to make due with having one. However there are so many things that could go wrong and many fans became especially worried about how the bad batch is going to get him back.  
Return to Kamino
This episode was a part one of the season finale which many fans had been fearful of since the beginning of the show. And they were right to be worried. First the Bad Batch makes their way back to Kamino as that was where Hunter was taken by Crosshair. This unfortunately broke the promise that Hunter made to Omega that she would never have to go back to Kamino. However she doesn't seem fazed and there is even a touching scene between them. 
In this episode we also learn that Omega is in fact older than the rest of the Bad Batch. Obviously she doesn't have excepeerated growth while the rest of the batch does, that means the Bad Batch is younger than many fans thought. This also shows that Dave Filoni is continuing the trope he started with the Mandalorian. Rough soldier adopting a child who turns out to be older than them. Fortunately though this is a trope many fans enjoy. 
Moving on in this episode, we learned some very unsettling news that shook fans. Hunter tells Crosshair that he is only acting the way he is because of the inhibitor chip but Crosshair gives some shocking news. He explains to Hunter that he got his inhibitor chip removed a long time ago. That means he was willingly working for the empire and hunting down the Bad Batch. However many fans wonder if that is true as he refused to tell Hunter exactly when the chip was removed although there are some that infer it was on Bracca. 
That was not the end of the heartbreaking events. At the end of this episode Admiral Rampart commands the destruction of Tipoca City while the Bad Batch is still there. There is still hope they will make it to their ship but the blaster fire of the star destroyers were tearing the city apart quickly and the bad batch might now make it out alive. 
Kamino Lost
Episode 16 was the final episode of season one of the Bad Batch and quite the ending it was. It starts with the Bad Batch still on Kamino which, although not being blasted with blaster fire, is crumbling. This tore up every fan who was attached to the Republic era of Star Wars. Tipoca City was first seen in Attack of the Clones in 2002 and made more appearances in Star Wars the Clone Wars, causing fans to get attached to the city. The destruction of the city truly symbolized that the age of the clone wars is behind us. The adventures that happened and the friendships formed all sunk to the bottom of the sea with the rest of the place. 
Later, while the Bad Batch was trying to escape the planet there is a heartwarming scene between Crosshair and Omega where they sit and talk. This was a parallel to the scene in episode one where they are all in the brig and Omega sits with Crosshair. A scene like this wasn't surprising though as Filoni really likes making connections between things in the movies or other shows. 
Speaking of Crosshair, the ending left fans wondering what is going to happen with him. He refuses to go with the bad batch when they escape but the Empire has turned on him. He now doesn't have anyone to turn to and join. He also has no guaranteed way off of the planet which means he might be stuck there for a while alone, something he's been for a while now. 
However, Crosshair staying behind is not how the episode ends. It ends with Nala Se being brought to the place where the empire is stationed. Now, since Nala Se is the head scientist of the Kaminoans and head cloner, this means big plans and lead up to things that happen in the sequel trilogy as well as the Mandalorian. As known Palpatine clones himself and many fans were unser how but this is likely the answer.
Overall the first season was absolutely wonderful and there was a perfect mix of emotion and adventure. Personally, I think one of the most stunning things was the music. It definitely helped bring the show up to a 10/10 rating and something I would definitely watch again. It helped make sad scenes sadder and happy scenes happier. 
But anyway, there are several questions that need to be answered and fortunately there will be a second season streaming in spring of 2022. This first season of adventures with the Bad Batch was amazing which can only mean season two will likely be spectacular. It will be exciting to see since there will also be a gap between the end of season one and the start of season two meaning there will be some changes. Season two will be here sooner than we think but until then may the force be with you!