Give Back by Giving your Time
Volunteering in the Horizon Community
Kendall Hudson
October 31, 2018
Horizon's community is large and diverse, which often results in many missed opportunities. However, HHS is lucky to be a part of one such community– and volunteering is the perfect way to give back to such a distinct body of citizens.
Olivia Tagart (sophomore) places herself within the outskirts of the community, driving herself to use volunteering as a steady pedestal. Olivia not only uses volunteering as a chance to involve herself, but she also takes advantage of it to better herself as a person.
"You have to be extremely patient. You must be willing to sit down and listen to what they have to say, which has made me a more calm person," Tagart states.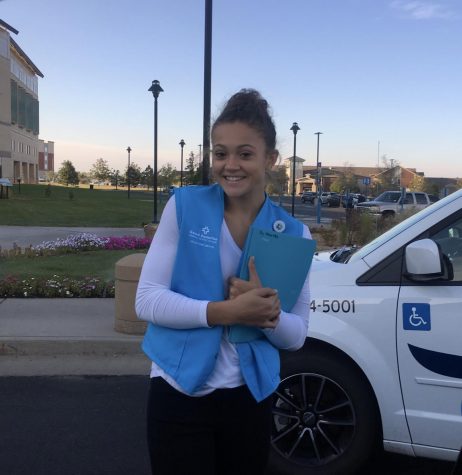 In today's society, it is easy to let emotions overrule one's personality. Tagart, however, focuses and guides herself down a path she feels many others can learn from. Volunteering does not have to be a grudge to hold.
Tagart finds herself "only spending 2-3 hours a week volunteering," yet still manages to keep up good grades and become a better peer.
"Not only am I getting hours to log for school, but I am becoming a better classmate for those around me," Tagart says.
Balancing school and free time can be overwhelming for students at times, but diving directly into a new experience can push someone to be their best self– not only for them, but for others as well. Tagart shows that handling time management successfully is an amazing trait to have– not only for present day, but further down the line as well.
For those who are unsure as to where to start, she advises to "just go for it!" Volunteering can be the perfect place to find strengths and potential interests. It is common for teenagers to not make up their minds when it comes to what future holds– so living in the moment can be a great opportunity to start volunteering.
"The earlier you start, the better. You're gaining more experience, and getting ahead of things– so when it comes to applications, it is already there!" Tagart says.
If more of Hawk Nation were to involve themselves in community outreach, each person would help set a wonderful reputation– encouraging more people to start being a part of what is around them.