Horizon Takes a Dub
Fans and players show their support for Horizon's most attended sport during Homecoming
Hang on for a minute...we're trying to find some more stories you might like.
Tensions were high while temperatures were low on the night of September 28th during Horizon High School's 2018 Homecoming football game. Overcoming the cold, Horizon beat Fossil Ridge by an incredible ten points.
"We just need to keep our head in the game, because it's a league game– and if we won, we would be in first [in the league]," Carson Cruz, sophomore teammate, says. 
While outdoor conditions posed a major obstacle, senior class player Garrett Evans says that the main challenge of the game was actually "distractions from the crowd."
Fans, however, cheered on. The notorious school chant "H-H-S" echoed throughout the stadium, filling eager spectators' ears with Hawk Pride that could not go unheard.
The stands were packed to the brim with students, parents, and teachers dressed in camouflage to fit the night's theme, showing their support at the biggest game of the season.
Student Ally Sanchez (sophomore) says, 'The homecoming game is my favorite game of the season. Everyone gets dressed up and goes to the tailgate. It's just a good time to come hang out with your friends and forget about schoolwork for a minute."
The halftime show was very anticipated as our highly ranked Poms team and marching band made the performances of a lifetime.
Among the hype, homecoming royalties were announced. Winners included: Xavier Harris and Avery Buzzard representing the freshman class, Vince Miller and Tessa Killmon representing the sophomore class, Braedon Johnston and Alexis Ybarra representing the junior class, and Camden Strain and Josh Trujillo representing the senior class. These star students stood happily under the traditional fireworks as they accepted their victory.
Overall, the homecoming game was, as always, a huge success. With food trucks, games, school spirit, fireworks, talented performers, and incredible athletes, the weekend couldn't have started off on a better note.
Congratulations again to HHS football for such a glorious victory, and thanks to the fans for coming to support!
About the Photographer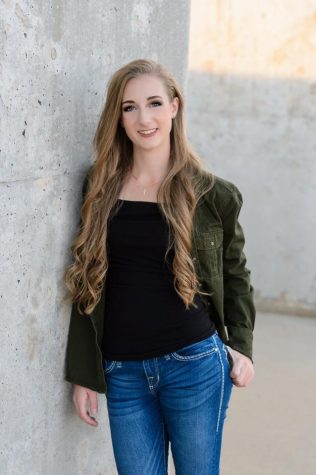 Autumn Sorrentino, Editor-in-Chief
Autumn Sorrentino, a senior at Horizon High School, is proud to announce her third year with The Profile. A poet, dreamer, and artist at her core, Autumn...