Right on Q
Horizon's theatre department whips up an inspiring, though blunt, message for teens
Hang on for a minute...we're trying to find some more stories you might like.
For many, the beginning of the school year can be seen as unwanted: the loss of sleep, heavy loads of homework, and stressful new materials are among the usual struggles of students. There are those, however, that enjoy coming back to see familiar faces and participate in after-school clubs once again.
Theatre kids know this feeling all too well, and the chemistry they share was evident in their enthusiasm with the recent showing of Avenue Q.
Not only was the production a humorous outlet for the mockery of children's TV shows, such as Sesame Street, but the message of the play seemed directly aimed at high school students of this generation.
Some of the events that occurred or were implied within the storyline were very applicable to the lives of teenagers today– including, but not limited to, intercourse, homosexuality, and dating. Avenue Q made an important message for high schoolers today clear: make yourself happy with things that will last.
Mrs. Morris, Horizon's theatre director, stated the relevancy was a contributing factor for the selection of the play.
"I like directing the shows because it gives students at our school a place where they can feel connected, and it also gives our audiences a way to connect with worlds outside of our their own," Morris says. "It meant a lot to me to have this community when I was in high school, and I wanted to be able to continue to provide that for our students."
The fact that the cast had only six weeks to prepare for the performance shows just how much dedication everyone put in, and how much they enjoyed it. While many actors and actresses in Horizon's theatre department enjoy performing, others see the family and friendships made as the highlight of the group.
"That's what I love about theatre: people are just so nice, and we are so close with one another and, literally, we become one giant family, which is really really awesome," says sophomore Holly Hyman, who played the role of Mrs. Butz.
Despite the short amount of time for rehearsals, the cast of Avenue Q felt like the production came together in a timely and thought-out fashion. Between the rush with tech and charge towards opening night, things could have gotten a bit hectic, but the theatre department kept a cool head.
On top of that, Horizon decided to put up their performance for an audition to run it again at the Colorado Thespian Conference. Committee members came to watch Horizon's performance and will release the schools performing at the event in early November, so be sure to wish the theatre department the best of luck!
"I think we did the best [that we could] with the six weeks that we had of rehearsals," says senior Katelyn Flynn, who had the role of Gary Coleman. "This was also the first musical that we have done at the beginning of the year for a long time, and it was a big musical to do in such a short amount of time."
Whether you have a knack for set design or a soft spot for the spotlight, Horizon's theatre department is always looking for new faces– so don't hesitate to join a class. When asked what they would say to someone considering joining theatre, all three students said without hesitation: "Do it."
Andrew Hensel, a junior at Horizon, played the role of Princeton. "High school theatres really do put on a lot of good performances… They are just a really strong community that bond, not only in productions but outside of productions and in rehearsals and in school," Hensel says. 
About the Writer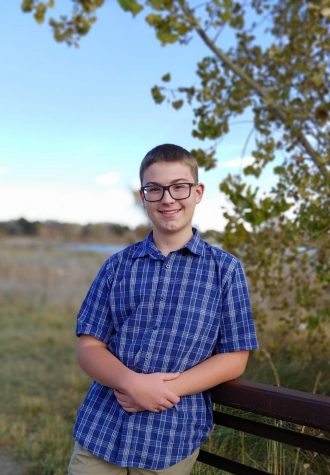 Joshua Palmer, News Editor
Joshua Palmer is a sophomore at Horizon High School and in his first year with The Profile. A love for short stories and poetry inspires Joshua to write,...