Look Fly this Fall
As summer comes to an end, pants get longer, air gets thinner, and the leaves start to fall. This October, new outfit trends are breaking through for boys and girls to start the new school year. After all, fashion is an art for some people, and a way to express their personality.
Looks are inspired in many ways, like seeing someone in the hallway with a cute top or seeing a celebrity's outfit.
Here is a selection of some of the most popular trends this year:
Layers. Another way to influence fashion is the weather. This year, fall is on the colder side, so we need to layer, layer, and layer some more! Anyone can add layers in their own different ways.
Throwing a jacket over anything could save a look. For girls, a cute way to layer (but still look fashionable) is pairing a cute, warm-toned sweater with a jean jacket or winter coat. To go along with the sweater, ripped jeans add a great touch– or some plain black leggings, to keep it simple.
If you want to be comfy, throw on some sweats. For guys, layering is just as important. A great way to keep it fresh while still being covered is wearing an oversized name brand sweatshirt, such as Nike or Adidas. On especially cold days, it may be wise to add a long sleeve underneath. Just remember, as long as you're warm, anything is possible, so always have a few extra layers.
Patterns. Fashion is also fun to experiment with, especially when it comes to patterns. Plaid is a stylish way to show the autumn spirit, with both cool and warm tones. Guy or girl, you can spice up a look with a nice flannel to seem sophisticated and clean.
Currently, warm tones are the new 'in.' Dark brown or caramel orange seem to be exceptionally favored this time of year. Another pattern that is trendy and fashionable nowadays is the criss-cross lace, normally worn down the chest or arms.
These would be good especially on a warmer day, since it shows a little more skin.
Accessories. Accessories can give any look some personality. A lot of girls like to add scarves, jewelry, or bags, as it can transform their look to something new. Adding some light colored scarves that go with a sweater or shirt can do quite a bit to spice up the look.
Adding jewelry can also make your look more spectacular than before. For guys, hats, belts, or watches are commonly added to outfits. Even though we're not allowed to wear hats at school, you can still add them to your look outside of the hallways.
Watches, on the other hand, can get you to feel more confident, adding some texture to your look. Plus, belts will not only hold up your pants, but also look fire with jeans. Putting all these accessories on can help any outfit improve in minutes.
Shoes. No matter where you go, you must wear shoes. On the bright side, this means that even shoes can add style to your look. Some trendy shoes for girls are tall black or grey knee high boots– or, the traditional Uggs.
Adding these to your look really makes the perfect fall look, since it's starting to get colder during this time.
Bonus: though these shoes help with your outfit, it also helps you keep you warm. Guys can wear tennis shoes, like Vans. This brand in particular is popular for Horizon.
Socks. To add some design to your outfit, high socks or fuzzy socks can always be worn with your boots to add to the design. With high socks in particular, it's very fashionable to make them higher than your boots to give a pop of color.
These are only a few things that you can wear for fall; everyone has their own style. This, though, can get you thinking about some cute clothes and accessories for the future too.
About the Writer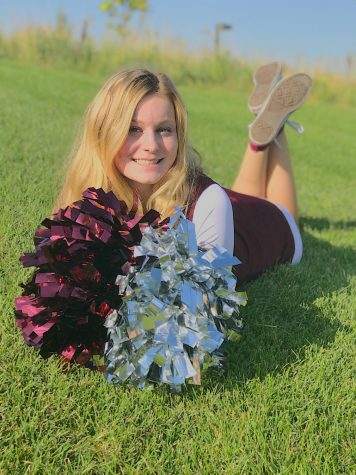 Kiley Haberstroh, Student and Staff Outreach, Productivity Manager
Kiley is a Junior at Horizon High School. She is known as a bubbly outgoing girl who strives for greatness. Kiley focuses on the positives in life. The...