The Toledo Family, 'Bleeding Maroon and Silver'
Meet the Toledo family, who give their all to the Horizon football program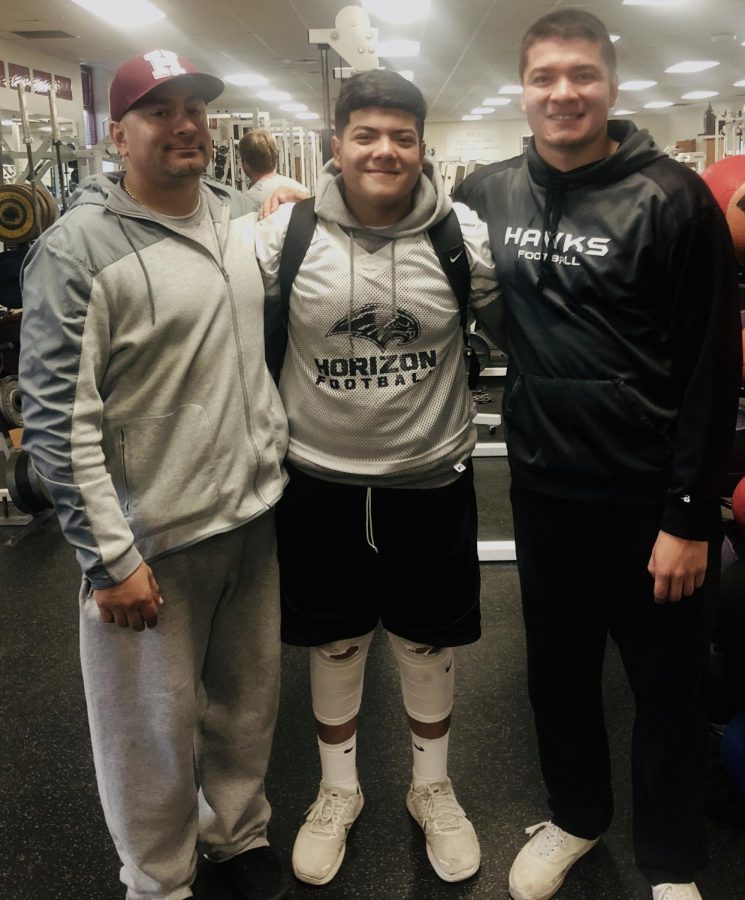 Peyton East, Sports Editor
October 30, 2018
To most students at Horizon, the football team is just another aspect in their high school experience. To the Toledo family, though, the football program is more of a way of life.
Trey Toledo is a sophomore at Horizon High School. He starts varsity games on the offensive line.
Also heavily involved with the program is Trey's older brother, Art Toledo. Art graduated from Horizon in the class of 2016, and played quarterback on the team that won that year's league championship. Art is the head coach for the JV team and dedicates every Saturday to his team.
Last, but certainly not least, the boys' father, (also named Art, who for this article is referred to as "Coach Toledo") loves putting his time into our Horizon Hawks. Coach Toledo helps coach both the varsity and the JV players, focusing on defensive backs.
All three of the Toledo boys show up to practice everyday after school, and attend both the varsity and JV games.
"Football takes up a big portion of our life. We don't get home until like 6:30 every night, then it's usually eat, do homework, go to bed, and then back to school," explains Trey.
This program is very time consuming, but the Toledo boys push through it.
"I love the school, and I love the coaches and being around all these guys. I went to Trey's freshmen meeting, and all these guys came up and asked if I would help out every once in a while. I was stuck after that," Coach Toledo says.
Even after graduating from this school three years ago, his son Art loved it enough to return. After high school, he went to play football for a school in Minnesota. But he came back, "because he missed home too much."
Not only are the Toledos committed to football, but also to one another. It is evident that family is a strong value for them. And while coaching side by side may be an amazing experience for both Art and Coach Toledo, it is also very helpful to Trey. Most people would think that always having to perform in front of both your dad and older brother would be a lot of pressure, but Trey disagrees.
"It's a good thing and a bad thing. A lot of people judge you off your brother. My brother is a really hard worker, so they hold me to higher standards and don't overpressure me because they know what I am capable of," says Trey.
Although they played different positions, Coach Toledo is still proud to see two of his boys go through the football program and both benefit from it as well.
"It's always emotional because it's your kids. They have good work ethic that they learned from Coach Ybarra and this great program," Coach Toledo says.
Through a common passion for both football and family, the Toledos have had such an impact on Horizon– and vice versa. Everyone in the program is extremely thankful to have all three involved with the football teams– and on the flip-side, the Toledos have just as much enthusiasm when describing our school.
"Horizon is probably one of the most important things in my life. I really appreciate Horizon; that's why I bleed maroon and silver," Art says.