Favorite Winter Clothes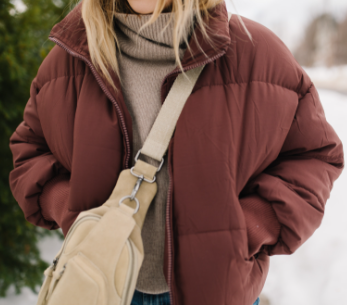 Photo Credits: https://themomedit.com/style-women-winter-jackets-cute-affordable-puffer-coat-outfit-ideas-winter-spring-try-on-dre1. ssingroomselfies-amy/
Styling clothes in the Winter can be very difficult due to the weather and I know during winter I would rather be comfy with warm clothes than being cold. 
My first favorite winter clothing item would have to be a puffer. I love my puffer, there's different puffers such as long, medium and cropped. The puffer I have is cropped,but it still keeps me warm. You can pair a puffer with a turtleneck, or a sweater. It's just quick and easy to throw on. 
My second favorite winter clothing item  would have to be leggings. I specifically wear the Aerie crossover leggings. These leggings keep me warm and I have the color black, so they can match with everything. 
My third favorite winter clothing would have to be long socks. Sometimes I wear fuzzy socks over my leggings but it will mostly be long nike socks. 
My last favorite thing in winter would be Ugg mini boots. These shoes have been trending, so I had to try them out for myself and I love it. These boots are so warm and are very easy to style. 
Overall, I think that yes styling outfits in winter is way harder than summer. However II still try to style my outfits and I am warm and it still looks good all at the same time.