Ahsoka Tano Getting Her Own Show?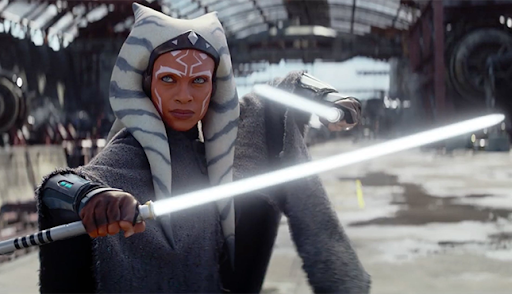 (Picture)
At the beginning of April during the Star Wars Celebration, Lucasfilm released the teaser trailer for the Ahsoka show. This has been a show that has been rumored ever since Ahsoka appeared in the Mandalorian back in 2021, and since then fans have been anxiously waiting. From what it looks like in the trailer Ahsoka is going to have everything fans wanted and more. 
Characters From Rebels Return
Fans weren't just excited because of the return of Ahsoka. When the show was first rumored, people hoped we would see some characters from Star Wars Rebels. Turns out fans won't be disappointed. In the teaser trailer, we had a chance to see shots of Sabine Wren, Hera Syndulla, Chopper, and Ezra Bridger. These were all characters who were part of the main cast in Rebels. 
As Star Wars fans know, Ezra Bridger disappeared at the end of Rebels and Sabine hinted that she and Ahsoka were going to work to find and save him. And it seems that's what the creators will be doing just that. Although fans aren't completely sure where Chopper and Hera are specifically going to come in, it'll be amazing to see them. The Rebels characters haven't been seen since 2017, so it'll be a happy reunion. 
Grand Admiral Thrawn
One of the characters that fans were really looking forward to seeing again was Grand Admiral Thrawn. For those who aren't familiar he is the main antagonist in seasons 3 and 4 of Rebels and he's had three book series written about him, all written by Timothy Zahn. He's the only alien that was permitted to serve as a high ranking officer in the Empire. He was also arguably one of the most dangerous people in the Empire, only second to Vader and Palpatine. He's the one that Ezra disappeared with. 
A lot of fans were nervous about Thrawn's casting in the show. In Rebels he was voiced by Lars Mikkelsen and was given his iconic calm and menacing voice. It's a difficult one to replicate, but it's really important to his character. Fans were worried that Star Wars was going to be stupid especially because Lars Mikkelsen said in an interview, several months before the trailer was released, that Star Wars had yet to approach him about playing Thrawn. Fortunately, although not announced in the trailer, it was revealed that Lars Mikkelsen will be reprising the role of Grand Admiral Thrawn in the Ahsoka show. 
There is one more thing avid Thrawn fans are ecstatic about. For a bit of context the original Thrawn series came out in 1991. Some of the original Star Wars fans read the books, and that's when Thrawn was first introduced. The first book in the series was called Heir to the Empire. In the Ahsoka trailer there was a reference to these books. Ahsoka said that Thrawn was rumored to be "the Heir to the Empire". Along with that there were several characters shown who seemed to be characters in the book. Hopefully this means that there will be several things in Legends that will be brought back to Canon. 
Since it was just a teaser trailer we weren't given much more about the show. Hopefully there will be more updates soon. All we know now is the Ahsoka show will be coming to Disney+ in August of 2023. We all anxiously await the return of so many characters and until it comes out, may the force be with you!