LSU Women's Basketball Team Wins National Championship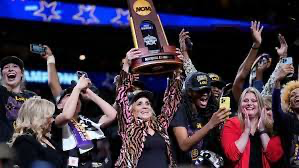 Coach Kim Mulkey holds the national championship trophy 
The No. 3 LSU (Louisiana State University) women's basketball team won the national championship for the March Madness tournament! This March Madness tournament was not what anyone expected. Walking into this tournament, LSU had a 5% chance of winning. But LSU proved everyone wrong, and took home the trophy for the first time in school history! 
South Carolina, who are the 2022 defending champions, were favored to win this tournament. They went 36-1 in the regular season. LSU's season record was 34-2. There was a lot of debate around LSU's schedule. It appeared as though they played "easier" teams than other teams did. But that did not stop them from winning the championship. They showed everyone that they were a legit team and should be taken seriously. 
Now I want to highlight a couple players. First, the star of the team Angel Reese. In 2020, she was ranked the number two player in her class. After spending two seasons at Maryland, she hit the transfer portal and made her way to LSU. She was rated the top player in the transfer portal in 2022. She is a forward on the basketball team. Not only is she a huge weapon for LSU, but she is an amazing leader. She carries her team in the most important moments and shows younger kids that they can achieve their dreams. Angel Reese is an amazing role model and brings life to women's basketball. Reese broke the record for most double-doubles points (34). Furthermore, she averaged 22.25 points per game and 17.25 rebounds. 
Another player I want to highlight is Alexis Morris. Alexis definitely does not get enough credit for her hard work and impact she makes on the team. She guarded Caitlin Clark the entire game and led her team to victory. Alexis Morris has quite a story. She is a prime example that you are not your mistakes. She began her career at Baylor University, but was kicked off due to violations. She transferred to Rutgers University and played two seasons, one of which she was ineligible for. Then, she transferred to Texas A & M for her junior year. Finally, LSU coach Kim Mulkey recruited Alexis Morris to LSU. Morris scored double figures in her first 11 games at LSU and finished the season with 22 games scoring in double figures. She played a key role in the national championship game against Iowa. As of now, her career at LSU is finished and she has entered the WNBA Draft. 
Congratulations to the Lady Tigers! Geaux Tigers.