My Favorite Celebrities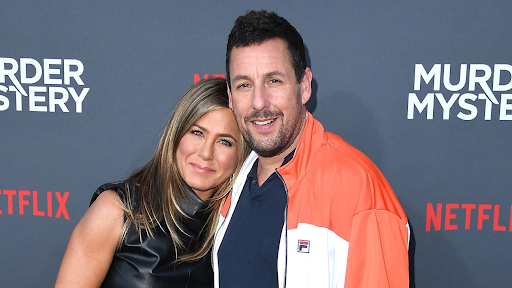 Adam Sandler and Jennifer Aniston have been my favorite celebrities for a long time.  
A lot of people despise celebrities because they flaunt their money and show just how amazing their lives are on social media. And yes they sometimes do that, however, I love celebrities. To me, their lives are just so interesting and lavish. Therefore, today I'm going to break down some of my favorite celebrities. 
Adam Sandler:
Ok, Adam Sandler has been my favorite celebrity ever since I was born. And I mean EVER SINCE I was born. I could literally write a whole article on just him but I'm not going to do that. Adam Sandler has been my favorite celebrity because his movies are some of my favorites of all time and they bring so much nostalgia to me. Growing up my family would watch mainly comedies and one of their favorite actors was Adam Sandler so it only makes sense that I love his movies now. I love his movies such as Just Go With It, Happy Gilmore, Grown Ups, Billy Madison, 50 First Dates, Blended, etc. (Honestly I could probably just name every single one of his movies as my favorite.) I also love how humble he is. If you look at paparazzi pictures of him you will see him in an oversized t-shirt with basketball shorts often playing pickup games of basketball with random people. He definitely doesn't flaunt his money and acts like an everyday person which makes me like him even more.  
Jennifer Aniston: 
Not only has Adam Sandler been my favorite ever since I was born, but so has Jennifer Aniston. Whenever someone asks who your favorite actors are, the answer was always Jennifer Aniston and Adam Sandler. I love Jennifer Aniston for the same reasons I love Adam Sandler. Jennifer Aniston is also so humble and genuinely seems like a nice person. Whenever she is around her friends, she always seems so sweet and like she truly cares about her friends. I love all of her movies and of course, my favorite is Just Go With It. I also love her fashion sense and how it is very classy.
Jason Bateman:
Jason Bateman has also been one of my favorite celebrities. He just seems like a great guy and seems genuine. He has been in some of my favorite movies to ever exist such as Identity Theft, The Switch, Couples Retreat, etc. I also love all of the people he's worked with as well. I especially love The Switch as it's with Jennifer Aniston. That movie really makes you root for the couple. He also has a new movie coming out which is called Air that I'm very excited to see.  
Zac Efron:
Zac Efron has also been one of my favorite celebrities. He has been in some of my favorite movies such as Baywatch, Neighbors, Mike and Dave Need Wedding Dates, etc. I'm sure you've been able to notice a pattern that literally all of my favorite actors do comedy movies. Zac Efron is extremely funny in his movies and definitely brings a good laugh. I also like some of his more serious movies. 
Overall, as you can see I really like celebrities that act in comedies. Ever since I was young, I would watch comedies with my family which ultimately made me love them as I became older. Above are just a few of my favorite celebrities. I definitely love a lot more, however. Who are your favorite celebrities?