Girls Basketball Play-Off Game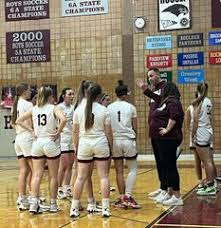 The Ralston Valley (Arvada, CO) varsity basketball team won Tuesday's playoff game against Horizon by a score of 44-28. This game took place during the 2023 CHSAA Girls Basketball State Tournament for Class 6A.  This was the end of the season for Horizon and the last game for our Seniors – Kaitlyn Frydenlund, Taite Delange, and Avery Inney.
The high scorers for the game on the Horizon side were Morgan Ives with 7 points and Natalie Thornton as well as Mirasol Miranda with 5 each.  Kassatly grabbed 5 rebounds leading the team on the boards.
The game really was won on the boards – with Ralston Valley grabbing almost double the amount of rebounds as Horizon.  All year long, Coach Doehler played with a relatively smaller team compared to some of these bigger powerhouses such as Ralston Valley and even Monarch.  He often would have up to 5 guards on the floor at a time and would try to beat these teams with speed.  Of course, sometimes this worked but with the really good teams that have height, it was often more challenging on the boards especially.  Next year, not only should 6'4" Sophomore Kaitlyn "Tabby" Schuman be back, but Dan should also have two more posts – Adriana Lovett and Norah Little able to add to his height and rebounding.