The Weird Selena Gomez, Hailey Beiber, and Kylie Jenner Drama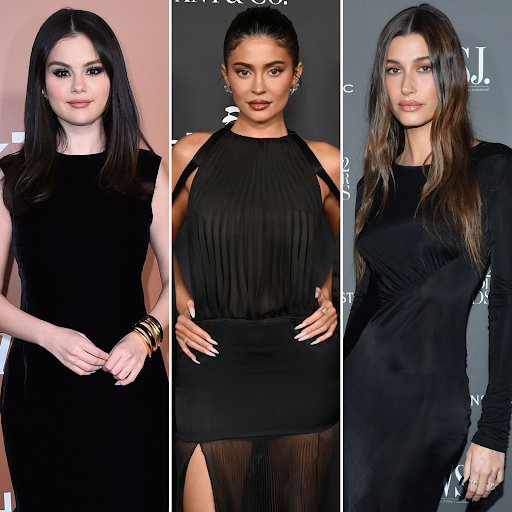 Over the past 48 hours on Social Media, there was an Instagram story posted by Selena Gomez stating that she accidentally "laminated" her eyebrows too much. Shortly after the post, Kylie Jenner posted a selfie on her instagram story, with the caption, "this was an accident???" written on her brows. Kylie also took a screenshot of her and her friend Hailey Bieber on facetime with the shot being extremely close to their eyebrows. Social media users believe this to be a direct jab at the singer. 
After all of the theories came out and the drama was at its peak, Kylie Jenner entered the conversation to address the claims. "This is reaching," she said on Feb. 22 on TikTok. " No shade towards Selena ever and I didn't even see her eyebrows post? U guys are making something out of nothing. This is silly." 
After Kylie's comment, Selena jumped in writing, "Agreed @kyliejenner It's all unnecessary. I'm a fan of Kylie!" 
The Drama of Hailey Bieber and Selena Gomez is Not New: 
It's also important to note that rumors of a feud between Selena Gomez and Hailey Bieber have been circling for years. After Hailey's engagement to Justin Beiber, who was Selena's ex-boyfriend for many years, this also caused a little bit of drama. However, things have seemed relatively good between them in recent months. They were even photographed together in October of last year. 
Another set of recent TikTok's has put the two against each other. The other feud began with a clip of Hailey, Kendall Jenner, and a friend mouthing along to a sound that said, "I'm not saying she deserved it, but God's timing is always right." This occurred right as Selena was facing a lot of online body shaming for a bikini pic taken by the paparazzi. 
Hailey denied that the video was about anyone. Selena wrote, "I don't let these things get me down! Be nice to everyone!" 
Hailey Bieber and Selena's looming feud is clearly not new. Therefore, when Kylie Jenner and Hailey were together seemingly making fun of Selena, it wasn't a shock. 
It's hard to say if Kylie's and Hailey's intention was directed towards Selena, but based on what has been done in the past it wouldn't be so shocking. It would be oddly coincidental for Kylie Jenner to post about eyebrows, the same time Selena does. Most likely I think it was somewhat directed at Selena. But that's just my opinion and maybe it was a complete accident. Do you think it was accidental or was it directed towards Selena?