Game Day for Horizon High School's Girl Basketball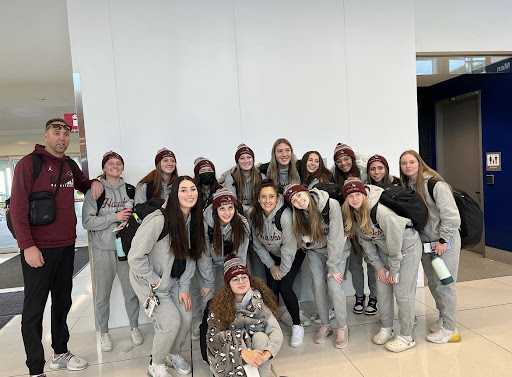 The Interview
Horizon Girls Basketball have worked extremely hard this season and have won a variety of games. They put in a lot of time, dedication and effort into their practices, but we don't really know what goes on behind the scenes. This is an interview with some of the Varsity basketball players where they take us through their routine on Game Day. 
Main Picture: What does your day look like on Game Day? 
How do you prepare for an upcoming game? What does practice look like? What do you do personally? 
"We watch film and prep for the type of defense and offense we want to play. Personally I try to focus on what I can do best that game for my team" – Ella, 11th. 
"To prepare for a game as a team we will look at videos of other teams and try to notice any weaknesses or strengths and what the best game plan would be. Practice is improving areas where a team would be able to get easy points on us. I personally like to hype myself up with music or something very upbeat" – Adriana, 11th. 
"I prepare for an upcoming game by having motivation like blasting music in my ear and surrounding myself with positive energy" – Jada, 10th 
What are some things that as a team you guys do on Game Day? (could be traditions or just hanging out etc.) 
"Every game day we dress up in some type of Hawk gear and we do a shooting drill called game day the day before our game at practices"- Ella, 11th.

"On game day the whole program will wear a certain outfit to school whether that being dressing nice or just wear sweats and a hoodie" – Adriana, 11th 

"As a team on game day, we always read an inspirational quote from a book. And try to apply it in the game or off of the court" – Jada, 10th 
Emotionally how do you feel? Are you nervous, excited, etc.?
"Usually I am both nervous and excited because it can be really fun to play but I also want to play my best every game which can be stressful" – Ella, 11th. 

"There's a lot of emotions on a game day, excitement and nervousness are the main ones that i think everyone feels" – Adriana, 11th.  

"I'm always excited but sometimes I do get nervous right before tip off. But those nerves go away as soon as I start playing" – Jada, 10th.