The Best Christmas Treats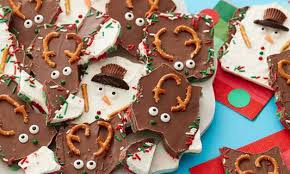 Spice up your holiday parties with these simple and cute reindeer chocolate bark
Are you tired of just bringing plain old store-bought cookies to your holiday parties? If so, keep reading and find out fun and creative ways to spice up any holiday party with these holiday-inspired treats that are just as easy as they are cute. We will be going over two savory treats and two sweet treats that are sure to impress everyone that sees them!!
Savory Treats
Starting off strong, the first savory treat that we have is a fun twist on a super popular year-round treat. A charcuterie board! This first treat is a candy cane inspired caprese board. This board is a simple and cute idea to bring to any holiday party and wow any guest. This board just requires a few simple and easy ingredients, such as basil, sliced mozzarella, sliced tomatoes, and a balsamic glaze along with olive oil, salt, and pepper to taste. This makes for a simple and healthy Christmas themed treat that is perfect for any occasion. The next savory treat is something that is a little more hardy. That being Christmas tree spinach dip breadsticks. These are a super easy way to spice up your holiday parties. This recipe is insanely simple, as it is only about 3 ingredients such as, spinach, cream cheese, paraseas and cheddar cheese, and thin crust pizza dough, plus a handful of seasonings. Bring these to any holiday occasion, and they will be gone in a flash
Sweet Treats 
Last but not least, we will be going over two different sweet treats that are super fun and simple to make. The first treat we will be looking at are these Santa Hat cheesecake bites. These are amazing treats to bring as they are quick and easy finger foods for guests to enjoy. You can make this an easier recipe by using any store bought cheesecake, or you could put your own twist on this dessert by making a homemade cheesecake. First, you need to use a small cookie cutter to get bite-sized cheesecake pieces, then you will need to add a cut strawberry top down onto the cheesecake bite. Finally, you will need to add a tiny dollop of whipped cream on top of the strawberry as well as to the base of the strawberry to complete the top of the "Santa hat." Not so much in the Christmas spirit this year? If so, create these coal Oreo truffles. This recipe calls for only three things! First, you will need oreos, both crushed and finely powdered. Next, you will need cream cheese, and melting chocolate of your choice. This recipe is super simple with only about four steps, and no cooking time, which makes these perfect for any rushed or last-minute parties. 
If you need to step up your cooking game and impress guests no matter where you go, then use these recipes!! They will be sure to wow anyone that comes across them. These are all recipes that include very minimal preparation, along with very minimal ingredients and cooking time. These recipes also allow people of all skill levels to create. Meaning that beginners can stick strictly to the recipe, and more experienced bakers and chefs can spice these recipes up and put their own twist on them all.