Morgan's Impulsive Purchase Reviews
https://www.britannica.com/story/why-did-we-start-wearing-makeup
With new releases in the makeup industry, it's hard to keep up with everything, so I enjoy looking back at brands I especially enjoy. That is where this article comes in. I am a makeup conisure, as I collect makeup and use it as my expressive art. Two of my favorite brands are Makeup A Murder and Colourpop. Before I continue, it's important to know I'm not a professional and products work differently on everyone.
Makeup A Murder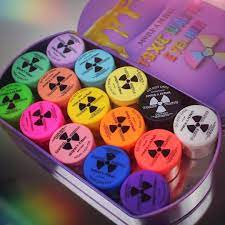 Makeup A Murder is an indie brand based around crime scene equipment and things of that nature. The brand gained traction by posting videos on TikTok, where they now have a community of three hundred sixty two thousand followers. They are cruelty free and vegan with all of their products. Their range of product prices goes from $4 to $114 dollars (higher prices are sets and/or vaults). 
I purchased the "Toxic Waste Eyeliner Set", which includes 15 shades of their water-activated eyeliners and a cute tin can to hold them in. The lids for the small jars are their liquid spilling design (seen in picture to the side).The retail price is $84 before shipping and tax. While that may seem expensive, the retail price if you purchase the eyeliners individually would be $90, so you are saving a little bit of money. 
This product takes a learning curve to be able to get the pigment to show, because my first experience, it wasn't very pigmented, streaky, and crackly but I realized that you are supposed to thoroughly mix the eyeliner with 2 drops of water, and when I did that, the product was much better. It was pigmented and didn't budge. 
From a personal perspective, I think that the product given is worth the money spent on it. However, I feel like the product should come with some type of written instructions because the learning curve is quite annoying to manage.
Colourpop
Colourpop is a mainstream makeup brand that was made in 2014. They are also vegan and cruelty free, along with their sister brand Fourth Ray Beauty. Their net worth is somewhere between $250-$500 million dollars. They have a large following on their instagram (10.1 million) and TikTok (1.1 million). Their range of product prices is $2.50 to $170 (higher prices for value sets).
Hair Products
I purchased the "Mane Event Bundle" in "Berry Cute", where it has a hair tint, coloured conditioner, and hair pins for $33 before tax and shipping (shown on right).
I will start off with the hair products I purchased. This is the first time that Colourpop tried anything with hair products, this launch including 6 different colors. The hair tint claims to be a semi-permanent hair tint that isn't damaging and not committing to colored hair. It has "super conditioning Vegan Keratin, moisturizing Mango Butter and antioxidant-rich Amla Extract to keep your hair soft, replenished + healthy". I can confirm that my oily, light brown hair was quite reddish pink, soft, and healthy after using this tint. It was easy to use, but I did keep it on for 2 hours to get the maximum color payoff.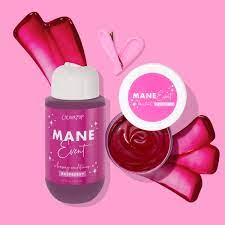 The next product was the colored conditioner, which claims to be a semi-permanent coloring conditioner that gives a good wash between color sessions or a pastel hue to natural hair. It has the same materials as the tint, just in a conditioner. I tried both ways, in between color sessions and as the pastel hue, and it was quite coloring. The directions say to keep it on your hair for 5 minutes before you wash it off, but I personally let it sit for 15 minutes to get the maximum color payoff. 
In total, I would say that the bundle is worth $33, and it does live up to its description. It was easy to use, especially for someone who's never dyed their hair before, and it worked well.
Mystery Box
I also purchased the limited edition "Totally Confidential" mystery box with a value price for $148 for $49 (shown on the left). The way I'm going to organize this is by saying a product, a small review, and an actual price.
The first item I received was "'the child' hand mirror" ($12), which featured a baby yoda on a circular green hand mirror. It is a sturdy mirror that a fan of the franchise, would love to receive. I personally don't watch the Star Wars movies, but it's still a very nice mirror.
           The next item I received was the "Avocado Superfood Face Mask" ($16), which is a face mask that was for softening, 
refining, and nourishing the skin. I do think that it does just that, but the smell is quite strong and (for me) not pleasant at all. I will continue to use this product, despite the smell.
The next item I received was a "Color Stix" in the shade "happy days" ($7), which is a eyeshadow stick in a rose gold metallic color. It was creamy, pigmented, and stayed for a while. While it did stay, I would recommend setting it with an eyeshadow, as it does move around if not.
The next item was a "BFF liner" in "CRZY" ($9), which is a deep blue color. It was very pigmented, didn't bleed into any lines, and stayed incredibly well. One thing I didn't enjoy was that it's hard to tell it is blue because it's so dark.
My next item was a pair of "Falsies Faux Lashes" in the style "Chick" ($8). These lashes were very fluffy and natural looking and more focused on the outer corners. They were a bit hard to put on, but with some trial and error, I was able to.
My sixth item was a "Super Shock Shadow" in "Cheap Date" (no longer available). This was an olive-golden metallic shade that was incredibly pigmented, creamy, and gorgeous. I don't have anything bad to say about this shadow.
My next item was an eyeshadow quad in "Feelin' Coconutty" ($10). This is a nude quad eyeshadow palette that was very blendable and pigmented with 1 shimmer shade and three mattes. I love the product, but while trying to open it, I broke the lid for it, which I was very disappointed with.
My next item was a set of "Neon Individual Face Jewels" ($8). These were gems in different colors and sizes that were really easy to use. I will say that the gems given glue are not that strong, so I often use lash glue to apply them, just so they don't move.
Another item I received was the creme gel liner in "Wildcat" (no longer available). It's a goldeny olive shade that was creamy and pigmented. The eyeliner is quite creamy and can be buffed out easily, but that does mean that it will fade with friction. I still do enjoy it.
My ninth item was the "Party Proof Eye Primer" ($9). This eye primer was the first item I didn't enjoy. For me, it was too oily to get any extra pigment to stick and the applicator didn't get much product out of the tube. I do not recommend this product.
My next item was an eyeshadow quad in "Creamsicle" ($10). This product was another version of the "Feelin' Coconutty" palette, so the formula is the same, but these shades were just more pink, which I personally loved. 
Another item I had was a Lux Liquid Lip in "Dance Off" (no longer available). This liquid lip was a creamy, browny nude that was very comfortable to wear. While it was very nice, it was very thin and needed some layering and was not transfer proof. 
I also received a Lux Lip Oil in "Hot Spark" ($9). This lip oil was an orange shade that was hydrating and only gave a hint of color to the lips, perfect for a no-makeup makeup look. It also looks good on top of other lip products, still giving the wet-looking gloss effect.
My penultimate item was an eyeshadow palette in the style "Twist of Slate" ($16). It was an eyeshadow palette with cool toned neutral shades that blended easily and stayed pigmented. It includes 5 mattes, 4 shimmers, and 1 creme shadow, the first made by Colourpop. It is the perfect neutral palette that is incredibly pigmented. Also important to note, for people that enjoy packaging, it comes in a marble container. This was my second favorite item I received.
My final item was an eyeshadow palette in the style "Glow Getter" ($14). This is a 9 pan palette with 4 mattes and 5 shimmers. Once again, it was pigmented, blendable, and creamy and had neutral colors and some more colorful shimmers, the perfect palette for beginners to start using more color. The packaging is a blue, lotus looking flower with an emblem of a butterfly-like insect. This is my favorite product I received.
All in all, I loved what I received. Colourpop and Makeup a Murder are brands I enjoy and would recommend to any makeup lovers or even beginners. And even with the expenses, I would recommend splurging if you can.