HHS Football Season 23′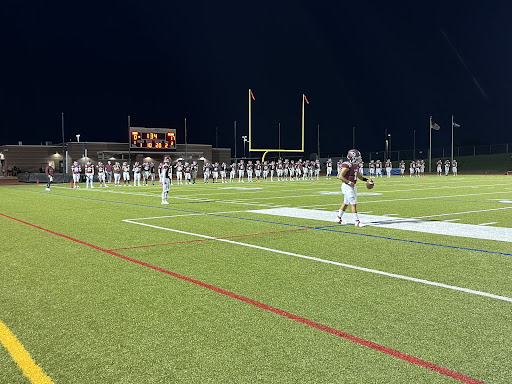 (Halftime Warm-Ups by Savannah Birch)
On August 25, 2022, the first Horizon Hawks Varsity football game took place at North Stadium at 7pm against Douglas County Huskies. At halftime the score being 0-17, the hawks were ready to accomplish what they had been practicing. The End score was Hawks 20 and Huskies 23 with Sophomore Quarterback Alex Birch running in the first touchdown. Before the game, the seniors were asked questions based on the game. 
The Profile: How are you feeling about your first final high school football game?
Senior Varsity Wide Receiver Landen Loomis says, "I am nervous about my last game. But I know after the first play they will all be gone. I have trust in my teammates and myself."
Senior Varsity Varsity Running Back Elijah Hinojos, "It's definitely a bit of a sad topic and it will be in the back of my head every play. I never really understood the saying "play every game like it's your last" and it's finally realistic." 
Senior Varsity Defensive End Chase Greene says, "So to be honest I felt very overwhelmed about my first last game. I was excited but it was like it was all coming back to me. I really want to have a positive record this season." 
Senior Varsity Tight End Jace Garner says, "I'm really excited to come out and make an impact in my last first game. I've been waiting a long time to come out and show what I have been working for. "
Senior Varsity Linebacker Issac Medina-Vigil says,  "Going into my first last high school football game I feel sad that it's all going to come to an end. So I wanna have no regrets left on the field."
Senior Varsity Middle Linebacker Peyton Kramer says, "I'm very nervous because this can be the last game ever to live. I have played this game of football since I was 7 years old. It's my whole life I have never missed a season ever and sometimes I would play fall and spring so it's a very big thing." 
The Profile: What are you looking forward to this season?
Senior Varsity Wide Receiver Landen Loomis says,  "I am looking forward to the brotherhood that will be made during this season. I know that I will look back at these memories I had during these years of my life." Hawks Let's Fly"
Senior Varsity Running Back Elijah Hinojos says, "I am looking forward to seeing the underclassmen grow and begin to develop into leaders on the field and in the classroom." 
Senior Varsity Defensive End Chase Greene says, "I also am looking forward to everyone coming together as a team and seeing how we all work together. That's all I'm looking forward to."
Senior Varsity Tight End Jace Garner says, "I am hoping to go and win out all season and show the other teams that we can compete and we're ready."
Senior Varsity Linebacker Issac Medina-Vigil says, "I'm looking forward to going to war game after game until we succeed." 
Senior Varsity Middle Linebacker Peyton Kramer says, "I'm looking forward this season is to play a lot harder than I played last year it's my last season and I want to make some history and I'm sick and tired of hearing people in the hallways saying how bad we are going to suck or going to lose so I want to change that to hear them say oh there good they will win for sure."