Upcoming Fashion Designers in 2022
These Fashion Designers Are Getting Their Big Break! 
Now that spring fashion week is over, there has been an emergence of new designers that are coming our way. This was the first time in a New York Fashion Week for these designers, but I can tell you it will be a very memorable one for them as this will do great things for their career. In fashion you always need a fresh perspective. And yes, older fashion designers like Donatella Versace, Christian Dior, Tom Ford, Coco Chanel, etc. will always be iconic. Their legacy will definitely not go away, but it is interesting to see what these new designers are coming up with. Fashion is ever evolving. The list below consists of designers who are pushing the boundaries, creating art, and coming up with new techniques. Here are the designers that should be on your radar this season.
Created by Maisie Schloss who is a Parsons grad, she launched her brand out of L.A. in June 2019. She already has an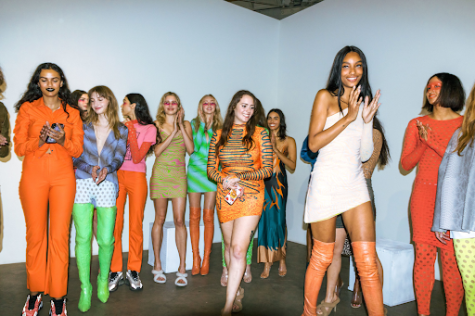 impressive resume having worked for Kanye West as a womenswear designer for his brand Yeezy. She was also one of the first recipients of his creative incubator grant. Her brand is filled with fun colors in which would be great party looks. Only in the first few years of her career, she has already dressed anyone from Megan Rapinoe to Kim Kardashian. She even made a custom look for Kim Kardashian's daughter North West.
This was Daniel Del Core's first time showing his looks in the Milan Fashion Week 2021. He presented his womenswear collection, Del Core. Core interned first at Dolce & Gabbana, and then at Versace. He then worked with Zuhair Murad in Paris where he was able to learn a number of skills. He also ran the VIP department of Gucci, dressing many celebrities such as Lana Del Rey and Dakota Fanning. Core is known for his funky looks with an abundance of colors. He also commonly uses feathers within his work ranging from pink to patterned feathers. Core's fashi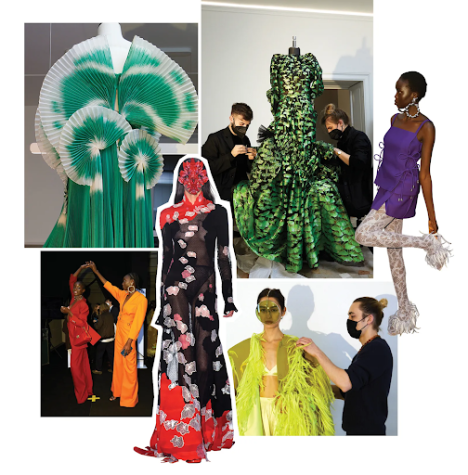 on is truly art.
Thebe Magugu was the first African American designer to take home the coveted LVMH Prize. His fashion focuses mainly on his cultural backgrounds, as he published his clothing collections in Johannesburg and dedicated some of his ideas to the people of south africa. In fact he actually still lives there today and does all of his fashion from there. Magugu is known for his sharp, feminine tailoring, handkerchief-point sunray pleated skirt, flattering knitwear matching gele head ties. He tells his story and others stories from his clothes.
Daniel W. Fletcher has previously worked for Louis Vuitton, Burberry, Victoria Beckham, and Lanvin. But now he is wanting to venture out on his own and create his own clothing brand. He competed on the Netflix show "Next in Fashion" last year, where he made it into the final round. Along this process he gained many fans for his menswear collection. His menswear collection consists of many stripes and other patterns but it is all very sleek. However, compared to other artists on this list he keeps his fashion relatively calm. Not only did Fletcher create his own brand, he is also still the artistic director at Fiorucci. 
Peter Do was founded by a group of five friends in 2018. The whole project is led by Vietnamese designer Peter Do. Peter Do is different from many designers, they don't really follow industry rules. They do things such as present their clothing when they want and where they want such as how they did a show in Paris when they're based in New York. Do only works with four colors, black, white, camel, and gray, which shows his minimal palette. He is also known for his very sleek cuts that can tend to sometimes be monochrome. He has worked under Phoebe Philo at Celine, which has allowed him to work with celebrities such as Zendaya and Solange. 
Overall, we expect to see a lot of good things coming from these designers next season. The fall fashion shows will be coming up in a few more months and this is where most of them will be showcasing their talents. We will most likely see similar things to what they are creating now. But, nothing can really be expected, as fashion is constantly changing. Do you think these new designers will rise to stardom? 
https://www.wmagazine.com/story/maisie-wilen-fashion-designer-kanye-west
https://www.vogue.com/fashion-shows/fall-2022-ready-to-wear/peter-do 
https://www.vogue.com/fashion-shows/fall-2022-ready-to-wear/daniel-w-fletcher 
https://www.vogue.com/slideshow/daniel-del-core-milan-fashion-week-debut 
https://www.vogue.com/fashion-shows/spring-2022-ready-to-wear/thebe-magugu 
https://www.townandcountrymag.com/style/g35695184/new-fashion-designers/ 
https://www.businessoffashion.com/articles/luxury/peter-do-interview-emerging-designer-old-celine/