Can Turf be Harmful?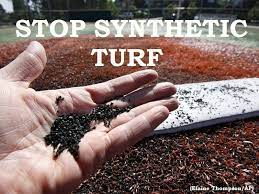 If you are familiar with sports such as football, soccer, lacrosse, track, and even rugby, then you may be familiar with turf. There have been many rumors that goalkeepers in soccer have been prone to cancer. Despite these rumors, many believe that turf does not have this effect on sports players that have been exposed to it. Many categorize turf as being made from the same type of plastic that is used in many common household objects and products used by the average person. Since we come in contact with these items on a daily basis, and have seen seemingly no proven harmful effects, many are very skeptical as to whether or not it can actually cause some of these serious conditions that are talked about in these accusations. Let's take a deeper look at studies that can tell us more information about the harmful effects that may come about due to the exposure of turf to certain athletes. 
The Basics
Sod, also known as turf, is grass. When harvested into rolls it is held together by its roots and a thin layer of soil. One type of turf is synthetic which is fabricated using synthetic fibers, manufactured to resemble natural grass. These synthetic fibers serve as a base material that stabilizes and cushions the playing surface for athletes all over. The fibers are typically made from nylon, polypropylene or polyethylene and are connected to a backing material. The tiny black pieces that lay in turf are essentially tiny bits of old recycled tires, called crumb rubber infill, which is added across the entire area of an artificial grass installation. Turf is used for most outdoor sports due to its weather resistance, low cost, Year round accessibility, and lack of needing to be watered and fertilized.
The Problem
Soccer goalies are the most exposed to synthetic turf. Although goalies make up only 10% of the team, they experience the largest number of cancers. Goalkeepers account for 68% of leukemia cases within soccer players. The majority of the cancers reported by Amy Griffin are blood cancers, which are the most heavily influenced by environmental exposures. An assistant coach at the University of Washington states "It was weird that some of the current and former players, especially goalkeepers has been diagnosed with cancer." This team of coached at University of Washington compiled a list of people who had gotten cancer from playing on this synthetic turf. Among the 53 players on the list, many of the diagnoses were blood cancers, including leukemias, non-Hodgkin's lymphomas, and Hodgkin's lymphomas. More than 60% of the players were goalkeepers. From this data, we can see that the turf can be seen as extremely harmful, especially to the soccer goalkeepers that come in very close contact with turf, every time that they have a game or practice. Artificial grass (turf) is known to have a handful of chemicals that have shown signs of cancer. Although the data above would seem to be very clear in the unsureness of whether or not turf can be harmful or not, many do not believe that artificial turf has shown any signs of being harmful to the human body. 
Artificial turf has, in some cases, been linked to causing users of turf to get cancer. These users are mainly that of soccer goalkeepers, due to the amount that they come in contact with the turf everyday at practice or with games. It is still undecided as to whether the cancer is caused by the turf, and there are many different viewpoints and opinions on that. Some say that turf can release harmful chemicals that can also lead to the cancer being created in these soccer players.