What is Coachella?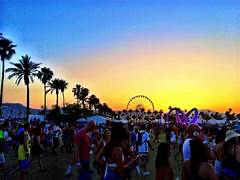 You might have seen on various social media platforms in the past couple days about a huge music festival happening called Coachella. But what is it? And why is it such a big deal every year? These are great questions to ask and they will be answered in this article. Keep reading! 
What is it? 
Coachella is an annual music festival that occurs during the month of  April in Indio, California. Dozens of musicians are invited to perform over two three day weekends in April. Not only is there music but also art, dance parties, record shop, a large ferris wheel, and games. Each year different performers and some returning take the gigantic stage for hundreds of thousands of people to sing along. This year was no different so let's take a look. 
2022 Lineup
The first 3 day festival has ended (April 15-17). Here's what happened: 
Billie Ellish, Harry Styles, and Swedish House Mafia with the Weekend were the headline performers. The lineup also includes Phoebe Bridgers, Megan Thee Stallion, Lil Baby, 21 Savage, Danny Elfman, Doja Cat, Run the Jewels, Jamie xx, Carly Rae Jepsen, Vince Staples, Japanese Staples, Baby Keem, Caribou, and Arcade Fire. 
Coachella is not for the weak. The headlining performers come on stage approximately 11:30 pm each night of the festival. But the smaller artists take the stage at 12pm. This easily becomes a full day of a never ending concert. Below are the scheduled times for the past weekend.  
Friday, April 15, 2022 
Harry Styles (11:35 p.m., Coachella Stage)

King Gizzard & the Lizard Wizard (12:00, Outdoor Theatre)

BadBadNotGood (12:05, Gobi)

Lane 8 (11:45, Mojave)

Slander (11:55, Sahara)

Artbat (11:15, Yuma)

Daniel Caesar (10:10, Coachella Stage)

Louis the Child (10:40, Outdoor Theatre)

Ela Minus (10:10, Sonora)

Epik High (10:45, Gobi)

Snoh Aalegra (10:35, Mojave)

Big Sean (10:45, Sahara)

The Martinez Brothers (9:45, Yuma)

Phoebe Bridgers (9:10, Outdoor Theatre)

Amyl and the Sniffers (9:00, Sonora)

The Avalanches (9:25, Gobi)

Pink Sweat$ (9:25, Mojave)

Baby Keem (9:35, Sahara)

Lil Baby (8:25, Coachella Stage)

Peggy Gou (8:15, Yuma)

Tokimonsta (8:10, Gobi)

Idles (8:10, Mojave)

Black Coffee (8:10, Sahara)

Madeon (7:40, Outdoor Theatre)

PUP (7:20, Sonora)

Grupo Firme (7:10, Coachella Stage)

Cordae (7:05, Sahara)

Slowthai (7:00, Gobi)

Arcade Fire (6:45, Mojave)

Damian Lazarus (6:45, Yuma)

Niki (6:25, Outdoor Theatre)

City Girls (6:00, Sahara)

Anitta (6:00, Coachella Stage)

The Marías (5:50, Gobi)

Spiritualized (5:40, Sonora)

Carly Rae Jepsen (5:30, Mojave)

Daphni (5:30, Yuma)

Omar Apollo (5:05, Outdoor Theatre)

Ari Lennox (4:50, Coachella Stage)

The Chats (4:35, Sonora)

Role Model (4:35, Gobi)

Dom Dolla (4:35, Sahara)

Still Woozy (4:25, Mojave)

Purple Disco Machine (4:15, Yuma)

Bishop Briggs (4:00, Outdoor Theatre)

Mika (3:40, Coachella Stage)

John Summit (3:35, Sahara)

Code Orange (3:30, Sonora)

The Regrettes (3:20, Gobi)

Raveena (3:20, Mojave)

Jayda G (3:00, Yuma)

The Hu (2:55, Outdoor Theatre)

Lost Kings (2:50, Sahara)

Princess Nokia (2:35, Coachella Stage)

Jean Dawson (2:30, Sonora)

Lawrence (2:25, Mojave)

Arooj Aftab (2:15, Gobi)

GG Magree (2:05, Sahara)

Logic1000 (2:00, Yuma)

Yimbo (2:00, Outdoor Theatre)

Juicewon (1:45, Coachella Stage)

Torres Martines Birdsinging and Dancing (1:45, Gobi)

Giselle Woo & the Night Owls (1:40, Sonora)

Meute (1:20, Mojave)

Venessa Michaels (1:25, Sahara)

Sohmi (1:00, Yuma)

Jim Smith (12:00, Sonora)

Dear Humans (12:00, Yuma)
This is just Friday's lineup. For the following weekend, the same headliners are making another appearance for Coachella 2022. 
The Outfit Craze: 
Another commonality regarding the festival is the outfits. Every year there are new trends in which visitors and influencers show off their best outfits. These outfits range from colors, sequins, patterns, flower crowns, skirts, etc. There is no set "dress code" and attendees are encouraged to express their creativity. Let's take a look at some outfits worn this past weekend. 
As you can see above, outfits range heavily and everyone can bring something to the table. You can certainly get some inspiration from these people! 
How Much Does it Cost to Attend? 
The downside to Coachella is the pricing. Tickets for general admission can cost you as little as $400 to VIP which can be $900. But tickets are only a small portion of what you will spend. This does not include drinks, food, transportation, and other spendings. However, there are different packages in which you can buy your tickets. Specifically, you can purchase a general admission ticket with a shuttle pass for $360 or $500 for a ticket and to the permit camp. 
Overall, Coachella is definitely an experience that you will never forget. I suggest doing your research on pricing, transportation, and hotels before booking a ticket. But this is an amazing kickoff before the summer!