Highlights of Music's Biggest Night: The 2022 Grammys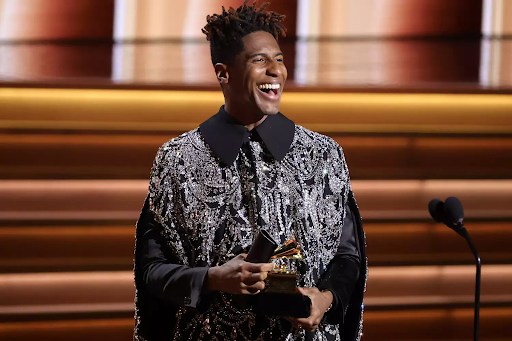 The 2022 Grammys were held on April 3 at the MGM Grand Garden Arena in Las Vegas. This was the first time they were ever held in Vegas, and for a few different reasons. The Grammys  were originally set to be on January 31 in Los Angeles, but COVID pushed the date back and scheduling conflicts with sports and other award shows prompted the 2022 Grammys to be held in Las Vegas. 
The artist of the night was definitely Jon Batiste. He won 5 awards out of 11 total nominations. These wins included Best R&B Album, Best Contemporary Classical Composition, Best American Roots Song, Best Traditional R&B Performance, and Best Jazz Instrumental Album. The actor also wrote and performed music for the Disney hit, SOUL. Batiste's immaculate talent was reflected in his lively and passionate performance of Freedom.
In his acceptance speech for Album of the Year, Batiste said, "It's like a song or an album is made and it almost has a radar to find the person when they need it the most." He went on to say, "It's more than entertainment for me. It's a spiritual practice, and there's so many people that went into making this album…" Batiste honored the other nominees in this category and showed his honorable character in this speech. All of his awards were very well deserved. 
Olivia Rodrigo showed up in a stunning dress by Vivienne Westwood. This off-the-shoulder look presented a glamorous silhouette with pink gems lined on a black satin dress. To style up her outfit, Rodrigo glimmered with a pink gemmed necklace and a choker that matched her dress. This look will always be remembered in Grammys history as iconic. 
Not only did she bring style to the Grammys, Rodrigo was also nominated for 7 different categories and won for Best Pop Solo Performance, Best Pop Vocal Album, and Best New Artist. She also performed her worldwide hit song Driver's License. 
An iconic moment of the night was when Bruno Mars and Anderson .Paak from Silk Sonic danced while accepting multiple Grammys. The iconic quote from .Paak: "We're really trying our hardest to remain humble at this point. But in the industry, we call that a clean sweep." They continued to dance off the stage. The dynamic duo won all four of their nominations: Best R&B Song, Song of the Year, Best R&B Performance, and Record of the Year. 
A top performance of the night was Carrie Underwood's Ghost Story. Underwood stunned the audience with a dramatic entrance from the ceiling and a flowing purple dress blowing in the wind.  This performance was the debut for her new single, part of her upcoming album, Denim and Rhinestones to be released on June 10, 2022. 
The Grammys also acknowledged the War in Ukraine while dedicating a moment of peace and hope through song with John Legend. They even showed a clip of Ukranian President Zelenskyy calling for viewers to unite behind Ukraine efforts to stand up against Russia.