Overview of the Star Wars Galactic Starcruiser Hotel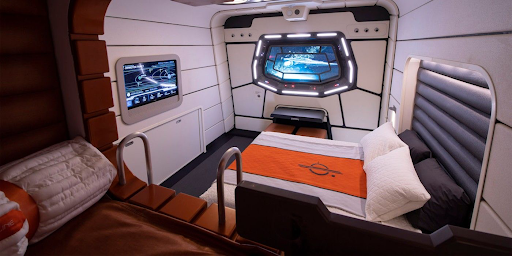 Disney World has just opened up a luxury immersive hotel to the public! The public will experience the best Star Wars journey that you can create. General bookings opened October 28, 2021 and the hotel finally opened on March 1, 2022. Let's take a look at what this fantastic hotel has to offer! 
Typical Experience
The Galactic Starcruiser package includes a 2-night stay in a cabin or suite, missions, activities, and your own immersive Star Wars experience. Below is a sample itinerary of what the stay might entail: 
Breakfast

7:00-8:00 am 

Transport shuttle to Batu

8:15-8:25 am 

Star Wars: Rise of the Resistance

8:45-9:30 am

Story Moment:

9:30-9:50 am
Arrange to steal a ship from the first order 

Broker a deal for heist
Millennium Falcon: Smugglers Run

10:00-10:30 am

Lunch at Docking Bay 7 Food and Cargo

11:15-11:45 am

Transport shuttle to Starcrusier

12:40-12:50 pm 

Lightsaber training

1:00-1:30pm 

Droid racing competition

2:30-2:50pm

 Build model ship

3:00-3:30pm

Sabacc tournament

4:00-5:00pm

Cocktails at Sublight lounge

5:00-5:30 pm 

Taste around the Galaxy dinner

5:30-7:00 pm

Story moment:

7:30-8:45 pm
Put the heist plan into action!  

Bring the stolen ship aboard 
Not only do you get a once in a lifetime experience at your own hotel, but you also get an entry to Star Wars: Galaxy Edge and Disney Hollywood Studios. In the sample itinerary above, there are two "story moments". These "story moments" are decisions you and your family can make to personalize your experience! Get a chance to design your own Star Wars journey. 
Rooms
Standard Cabin- The standard cabin rooms 4-5 people. It includes a queen bed and 2 bunk beds. As well as, a pull down bed for those families who are fitting 5 in a room. Moreover, the room has the basic amenities, bathroom, tv, mini fridge, and hair dryer. 
Galaxy Class Suite- The Galaxy Class Suite is a one bedroom cabin. It has all the basic amenities the standard cabin has but the suite has a double vanity bathroom, bar area, and 2 windows looking into space. It sleeps up to 4 people with a queen bed and 2 pull down beds. 
Grand Captain Suite- The Grand Captain Suite sure is grand! This suite rooms up to 8 people that includes 2 queen beds, 2 bunk beds, and 2 pull down beds. It is a very spacious area that is connected to your own living room/seating area. 
Now that we have learned about the types of room the Galactic Starcruiser offers its guests, let's take a look at pricing. 
2 guests per cabin: 
$1,209 per guest per night 
= $4,809 total 
3 guests per cabin: 
= $5,299 total 
4 guests per cabin: 
= $5,999 total 
These prices are very high but is it worth it? That is too early to tell yet. But the Star Wars Galactic Starcrusier hotel is unique. Many people hope that as time goes on the prices will drop to be more affordable for everyone to enjoy! Stay tuned for more updates about the amazing hotel.