The Lost City – Movie Summary (Spoilers)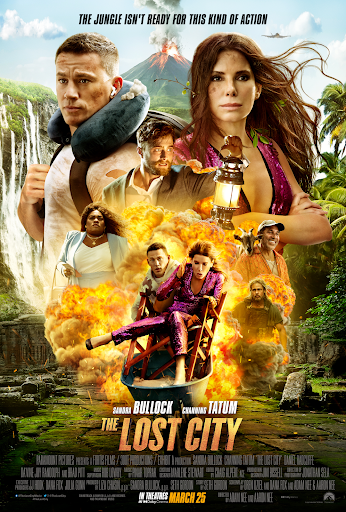 The Lost City is a 2022 American Romantic Action Comedy directed by The Nee Brothers, who co-wrote the screenplay with Oren Uziel and Dana Fox, which was originally a story conceived by Seth Gordon. The film came out on March 25, 2022 by Paramount Pictures and had a box office of $34.2 million. 
The film stars Sandra Bullock as Loretta Sage and Channing Tatum as Alan Caprison. Actors in supporting roles include Daniel Radcliffe, Da'Vine Joy Randolph, and Brad Pitt. Overall the film has received positive reviews from critics, due to the amazing chemistry Tatum and Bullock have on screen. 
The plot of the film surrounds Lorretta Sage who is an author that writes romance-adventure novels centered around the hero Dash McMahon, who is portrayed by cover model Alan Caprison. Lorreta also feels like this is her last book as she feels the series is over and she feels a little drained as she has run out of ideas. Later on, her publisher Beth, insists that she goes on a book tour with Alan since he always brings a lot of entertainment. However, she really does not want to go on the tour with him as he always ends up ripping his shirt off in the middle of it. Lorretta ultimately decided to go on the tour with him as she knows she really doesnt have any option.
At the book tour what Loretta thought was going to happen exactly did. Alan took the stage ovr barely letting her talk. And even the audience didn't really seem to care about her, they really only seemed to care about Dash and his handsome looks. After a disastrous start to the book tour it gets even more disastrous, when Loretta is met by billionaire Abigail Fairfax (Daniel Radcliff). Fairfacc was able to figure out that Loretta has based her books on actual historical research she did with her deceased archaeologist husband. Gairfax was able to discover a lost city on a remote atlantic island and he is convinced that this is the location of 'The Crown of Fire' which is a priceless treasure that could make him even more rich. Fairfax brought Loretta to this secret location to make her decipher these ancient writings which would tell him where the treasure is as she knows how to do that. However Loretta declines to help, and Fairfax, who fears the site will be destroyed by an active volcano, proceeds to kidnap Loretta and take her to the island. 
Alan, who is secretly in love with Loretta, witnesses her kidnapping. He decides to recruit Jack Trainer (Brad Pitt), who is an ex-Navy SEAL turned CIA operative, to meet him at the island to help with the rescue mission. On the drive there Alan desperately wants to help Jack find her, but Jack knows that most likely he will just compromise the mission. Jack tells Alan to stay in the car however he does not listen and proceeds to go with him instead. Jack was able to breach the compound and free Loretta, but he is ultimately shot in the head before the three of them get to the airport. This now means that Alan and Loretta are now in the Jungle all alone with no idea how to get home. 
After spending many hours fighting Fairfax's men, they reach a nearby village, where they hear a song from a local, and Lorretta deduces that the crown is hidden in a sinkhole in the jungle. However the pair is soon kidnapped again by Fairfax and they are forced to share the treasure's location with him. Once they reach the location, they discover the tomb of a queen, whose 'Crown of Fire' was made of red seashells gathered by her husband that was buried with her. After it's not what Fairfax expects he forces them into the tomb as the volcano erupts, but one of Fairfaxs men has a sudden change of heart and leaves a crowbar with them to help them escape. After the two escape they are now on a beach where they see Beth arriving with the local coast guard and they have Fairfax arrested for his numerous crimes. 
In the final part of the movie we see Loretta writing her next book, based on the adventures her and Alan experience together. The book ends up being a major success and we see a new spark in Loretta as she seems to be inspired to write again. Finally we see Alan and Loretta share a kiss while on vacation. In the mid-credits scene, we find out that Jack survived the assasination attempt, and he attends a yoga class alongside Loretta and Alan, surprising them. 
Overall this movie was very good. It has just the right amount of humor, romance, and adventure. This movie definitely had more humor than I was expecting, but it was all amazing. There were many quick jokes that if you weren't paying attention they just might go right over your head. Finally, Tatums and Bullocks on screen chemistry was tremendous and it was definitely a movie that kept me entertained all the way through. Overall, I would give this movie a 7/10.