Take a Break in Bali
A short guide to travel in Bali, Indonesia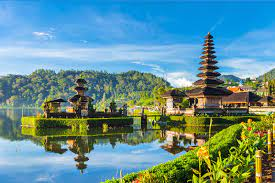 When someone asks you what your dream vacation is, what do you respond with? Maybe Italy, Mexico, or Hawaii? Perhaps even Japan? Personally, my answer is always Bali, Indonesia. Bali is a province of Indonesia and it is the westernmost of the Sunda Islands. The province includes the island of Bali and a few smaller neighboring islands, notably Nusa Penida, Nusa Lembongan, and Nusa Ceningan. Bali was established on August 14th, 1958. And Today Bali covers an area of about 2,232 square miles. Although prices to travel these days are exceptionally high, I believe that you should keep Bali at the very top of your list for places to travel. 
Why Bali?
Bali is a world to every natural beauty that there is. Bali is filled with towering volcanoes, green scenery everywhere, sandy shores, bright turquoise waters, and beautiful coastlines. This amazing island attracts many tourists from all over the world and with all different backgrounds. An everyday traveler gets a five star experience packed with oceanfront resorts, luxurious spa treatments, decadent cuisine and lazy sunbathing. This island is filled with so many different activities and landmarks(Pura Tanah Lot ; a seven sea temple, Ubud ; monkey forest sanctuary), which makes it a perfect place for all people. Whether you are a more adventurous person, wanting to hike next to an active volcano, or if you prefer to stay at a beachfront villa, Bali is the place for you.
In Bali
Although traveling to Bali may be very pricey, it is often very cheap when you are staying there. This island is full of hostels, Airbnbs, guesthouses and hotels which makes finding a place to stay very easy. The average budget hostel will cost between $7 and $10 per night. They can come with great money-saving perks too, like self-catering kitchens and free breakfast! There are also some boutique and trendy spots for those who have a bit more to spend. Airbnbs in Bali are also pretty affordable! Although they'll cost more than hostels, you can find some amazing spots for a fraction of what they would be in other countries. In an Airbnb you would have more privacy and access to home amenities, like a kitchen, dining area, and a lounge, and some even have a private pool and garden to offer. While on the island, you can take bike taxis for 1-2 dollars a ride, which makes getting around the island very efficient and cheap. Food in Bali can be very cheap if you know where to eat. Local food is very inexpensive, and a meal from a warung (Bali street food spots) will typically cost you no more than a dollar or two. One common dish served in Bali is known as Ikan Bakar(Grilled Fish) . If you're craving Western food you can expect to pay more, with prices at Western restaurants usually starting at around $5, which is still very cheap compared to what food prices cost in the United States. 
The charm of Bali is much more than just its fantastic views and cheap living styles. The charm of Bali is its people and their culture. They are known to be a very friendly, kind and helpful crowd. There is always an adventure to be found and had in the Island of Bali, and the diversity on the island is what makes it just right for everyone.