Putin's Greatest Fear: Alexei Navalny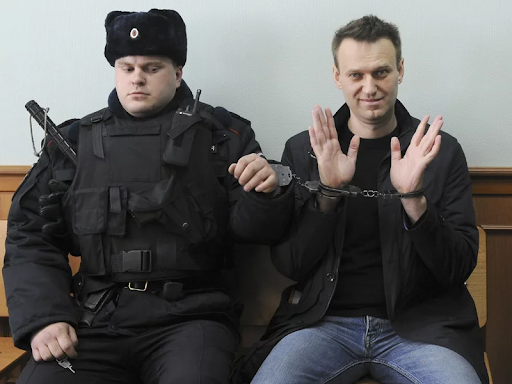 On Tuesday, February 15, the Russian government mounted a new trial against Russian opposition leader Alexei Navalny. The unprecedented trial took place at the penal colony where he is serving his current prison term. Having the trial in the prison where Navalny is being held not only limits media access but also puts his defense at a disadvantage. In addition to being in a makeshift court, they were also not allowed to bring in cell phones or laptops containing files important to their case. 
This comes as tensions between Russia and Ukraine mount at their borders, capturing the world's attention. However, this case seems to rival that in importance to the man at the very top: Vladimir Putin. Earlier this month, Navalny and his close allies were added to a state registry of extremists and terrorists. His Foundation for Fighting Corruption was also outlawed as extremist, which exposes anyone involved to prosecution.
 In this particular hearing, Navalny was charged with fraud and contempt of court. He could receive up to 15 years in prison for these charges, on top of his current 2 ½ year sentence over a fraud case from 2014. 45-year-old Navalny showed up to his hearing wearing a prison uniform, but aside from that acting characteristically unphased. Referring to the location of the trial, he bluntly stated, "It's just that these people who ordered the trial, are really scared, (scared) of what I might say during this trial, of people seeing that the case is obviously fabricated". In the photo to the right, Navalny stands to make his case.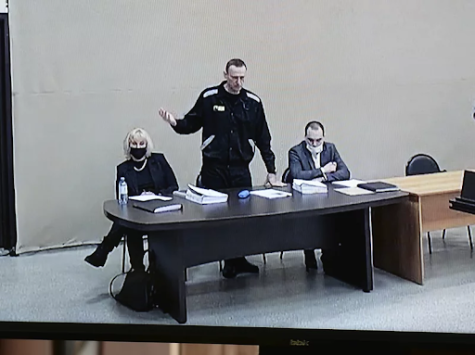 However, despite Navalny's best efforts, it's hard not to notice the general unwell appearance he has adopted. Navalny has been in prison for over a year now, part of that time on a hunger strike. In April of 2021, Navalny was transferred to a prison hospital where doctors said he was in poor health and only had days to live. This came after he went on a three-week hunger strike in protest of his lack of medical care. 
Navalny claims the hunger strike isn't the only cause of his deteriorating health. Before the strike, he complained of leg pain and numbness, as well as sleep deprivation that he compared to "torture," being woken every hour of the night. In early 2021, Navalny was the main source of conflict between Russia and other countries. U.S. National Security Advisor Jake Sullivan warned there would be "consequences if Mr. Navalny dies." 
But how did this man's case become such a big deal? His profile truly went worldwide in August 2020, when he fell ill on a flight from the Siberian city of Tomsk to Moscow. In Navalny's own words, "I get out of the bathroom, turn over to the flight attendant, and said I was poisoned. I'm going to die, And then I lay down onto his feet and to die".  Passengers even got some video footage on the flight in which one can hear Navalny groaning in pain. 
In an act of quick thinking, the pilot diverted the flight to a city called Omsk near the border to Germany. After two days, Navalny got permission to be transferred to Berlin, where the government announced he was in fact poisoned with a nerve agent called novichok. Nerve agents paralyze the heart and lungs, leading to death in most cases. Novichok, in particular, is known to be 5 to 8 times more toxic than the VX nerve agent used to kill the half-brother of Kim Jong-Un in 2017. 
A CNN investigation reveals that the poisoning took place in Navalny's hotel room before he even left for the airport. But the report digs far deeper than that. In the investigation, CNN finds phone records that placed several FSB agents in the same area as Navalny during 30 trips over the course of 3 years. The FSB is the Russian successor to the Soviet KGB. This task force was activated days after Navalny announced his run for president of Russia in 2017, which is likely to have been the root of Putin's push for action.
Navalny is so popular in Russian politics in the first place because of his candid online presence. It all started in 2006 when young lawyer Navalny started writing about corruption online. He published self-run investigations on everything from oil schemes to land deals and more. He kept doing this until 2011 when he organized protests against the recent presidential election. These were some of the most widespread protests Russia had seen since Putin was first elected President before the turn of the century. 
After this, Navalny managed to stay in the spotlight until 2013 when he decided to run for the Mayor of Moscow. This must have been a step too far in Putin's eyes because Navalny was arrested and charged for embezzlement, a classic move on the part of the Russian government. Yet, this didn't phase Navalny. He kept his eye on the prize until 2017 when he announced his run for president. Unsurprisingly, he was disqualified on the same exact embezzlement charges he was given back in 2013. 
At the time Navalny was poisoned, Putin's favorability ratings were dipping while Navalny's were climbing. For the first time, Navalny's ratings were about to strike even to his in national polls. As noted before, though, his poisoning was undoubtedly not a spontaneous decision. On a trip weeks prior to the poisoning, Navalny's wife Yulia took several photos and videos of men she believed were following her. After this, phone records show five FSB agents followed Navalny to Siberia on five separate flights in the days prior to the poisoning. 
A last-minute investigation by Navalny's team before he moved to Berlin found that the novichok was distributed in various places in his Siberia hotel. The task force who laced the room was obviously expecting for this to be the end of their mission and for Navalny to die on his flight; because after the news came out of his flight diverting, communications within the group surged in a panic. As stated, Navalny was authorized by the Russian government to be transferred to a hospital in Berlin just 48 hours after the poisoning took place. 
What the Kremlin didn't know when they authorized this transfer was that Navalny's team had swept the hotel room containing the poison, and the evidence held in shampoo bottles and other toiletries would be on the flight taking Navalny out of the country. When Navalny was tested, it was easy to trace the result back to the evidence he left behind. After his initial recovery, Navalny stayed in Germany for five months to regain his strength. However, his plan was always to return to his country. In an interview with CNN's Clarissa Ward, he answered, "I understand the whole operation, I would never give Putin such a gift" when asked why he would take such a risk.
And when Navalny implies he won't be leaving Putin alone anytime soon, he means it. When Vladimir Putin was first elected President of Russia in 2000, he remade the newly formed government in the image of the KGB he had previously been a spy prior to the fall of the Soviet Union. He created a secretive and highly constrained government by bringing media under state control, cheating elections, and maintaining ties with the country's most wealthy oligarchs. However, through protest and the new presence of social media, Navalny was able to build a following that would come to haunt Putin.
This support was demonstrated when he was arrested upon returning to Russia in January of 2021. After Navalny was taken into custody, his team addressed Putin directly by publishing an investigation into one of Putin's private residences on Youtube. The video states, "Vladimir Putin imagines himself as an Emperor of Russia, and behaves accordingly." This video was viewed over 100 million times and in conjunction with Navalny's arrest, sparked protests that flooded the streets of numerous cities in Russia. 
In the end, no one can doubtlessly speculate what Navalny's future holds. However, a video published by Vox after Navalny's arrest makes a good point: "Navalny might have found a way to build a movement that could outlast his freedom." In Russia, many look up to Navalny as a beacon of hope. Undoubtedly his supporters in Russia and around the world are hoping his story will end in success. But in reality, the power structure Putin has put into play historically holds little room for success that happens in one person's lifetime. However, the movement Navalny built has been put into motion and will surely continue into the foreseeable future.