Huge Upset Will Put ASU's Triple OT Defeat Over UCLA in the History Books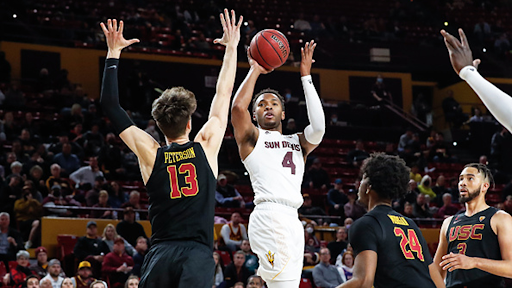 A groundbreaking game between UCLA and Arizona State University on Saturday, February 5th will go down in the history books as one of the most unpredictably entertaining college basketball games ever played. For some context, the UCLA Bruins were ranked 3rd in the nation for NCAA men's basketball. ASU, on the other hand, was unranked. Let's talk about how the game, which was postponed twice from its original date, went down at ASU's Wells Fargo Arena.
ASU students packed the stands for what they anticipated to be a blowout game against the UCLA Bruins. A fun tradition is for ASU students to do a "Curtain of Distraction" while the other team shoots a free throw. This game, there were appearances for the curtain of distraction, one of which was an alien. 
ASU's number 32, Alonzo Gaffney, started off the game on a high note with a smooth dunk. The game played out with an unexpected start as the first quarter had ASU up 34-32. The score equalled out as the Bruins and Sun Devils tied at 62 points at the end of regulation. Again, an unexpected half as ASU continued to put up a fight against the highly regarded favorite. But the game got especially interesting during overtime. 
It's OT 1, and ASU's DJ Horne makes both of his free throws in addition to an awesome 3-point jump shot by Marreon Jackson. Jaquez, Singleton, and Campbell were able to score 8 points for UCLA. The first overtime, to everyone's astonishment, ended in yet another tie, 8-8. 
ASU fans were on the edge of their seats during the second overtime as Myles Johnson from UCLA made a layup. However, ASU's MVP Marreon Jackson ensured that lead would not last long when he scored both of his free throw shots. UCLA scored another layup and then boom: Marreon Jackson from ASU passed to Jalen Graham who slammed a dunk down on the Bruins. The crowd went crazy, but the game still wasn't over. Double overtime ended 74-74. 
Triple OT began with a 3-pointer made by the Sun Devils' DJ Horne. Jamie Jaquez Jr. made four free throws for UCLA during triple OT. ASU fans were biting their nails as Senior Kimani Lawrence, who was only a 50% free throw shooter, went up to the basket. Of course, he made both shots. ASU now had a 6-point lead. UCLA's Tyler Campbell made the game even more intense as he scored a layup but the game ended 84-87 ASU after Marreon Jackson made a free throw. 
As the final (or third final) buzzer rang, ASU students stormed the court of the Wells Fargo Arena. They cheered on their team with amazement. A memory that will surely stay with them forever.
In a postgame interview, ASU's head coach Bobby Hurley reflected on the victory, "It was very rewarding. I feel good for the kids because I felt like we've been playing really well the last couple weeks but just haven't been able to break through with a victory." The Sun Devils sure did play well; they broke history as  the second team in D1 history to beat an AP-top 5 team in three+ overtimes. After Arizona State, UCLA was moved down to 12th in the nation. 
This will surely be one of the most memorable upsets in men's college basketball history.