A Beginner's Guide to Colorado Skiing: My Tips, Tricks, and Truths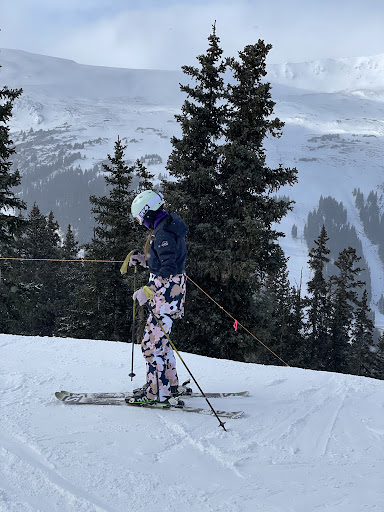 After skiing for many years, I have acquired insider knowledge about the best ski spots, best deals, and tips. By no means am I an expert skier, but I can provide my input for beginners who need basic knowledge on skiing. 
Ski Level
There are three different types of skiers: beginners, intermediate, and advanced. Beginners are typically those who are new to skiing and they often do green runs and easy blues. Beginners commonly are children and first-time adult skiers. Intermediate skiers can ski blues, even the more advanced blues. This group consists generally of people who have been skiing for a few years, but haven't progressed to be comfortable on all terrain quite yet. The amount of times you go skiing can either speed up or slow down the process for becoming an advanced skier. For example, I have been skiing for a little over 5 years now, but I still am not skilled enough to comfortably ski on double blacks or terrain parks. I can go on blacks, but I would not say that I enjoy it. This shows that some skiers never get to the advanced level because they stick to more relaxed runs and easy terrain. Meanwhile, advanced skiers have been skiing for many years and have developed a good background in turns, speed, and conditions. Advanced skiers often stick to challenging runs like black diamonds that are commonly icy, steep, and mogully (moguls are small hills). 
Slope Locations
Now for location. Here are all of the ski resorts and areas in Colorado: 
Arapahoe Basin
Aspen Highlands (Aspen)
Aspen Mountain (Aspen) (formerly Ajax)
Beaver Creek
Breckenridge 
Bluebird Backcountry Ski Area
Buttermilk (Aspen)
Chapman Hill Ski Area[citation needed]
Copper Mountain 
Cranor Ski Area[citation needed]
Crested Butte
Echo Mountain Park (formerly Squaw Pass)
Eldora 
Hesperus Ski Area
Howelsen Hill
Kendall Mountain
Keystone 
Lake City Ski Hill[citation needed]
Lee's Ski Hill
Loveland Basin 
Loveland Valley 
Monarch Mountain
Powderhorn Resort
Purgatory Resort
Silverton Mountain
Ski Cooper 
Ski Granby Ranch 
Snowmass (Aspen)
Steamboat
Sunlight
Telluride
Vail 
Winter Park/Mary Jane
Wolf Creek 
*list taken from Wikipedia
Of the resorts above, I have skied at Vail, Wolf Creek, Loveland, Keystone, Eldora, Copper Mountain, and Breckinridge. I would love to continue exploring the options Colorado has to offer, but my go-to pick for skiing is Loveland Ski Area. For those who live in the Front Range, Loveland is a great pick because of affordability and location. The rate for an all-mountain lift ticket is $94 for ages 15 and up and $38 for children. Senior rates are $75 for a day pass. Personally, I use 4-Paks that include four lift tickets for only $199, and if you purchase them before November 1, they are $169. This deal is amazing compared to other season passes because you can use one 4-Pak for multiple people. Although Loveland is not a resort, it is a great spot for locals and more advanced skiers. The terrain is mostly blues and blacks. On the other hand, my recommendation for out of state skiers is Breckenridge Ski Resort. Breckinridge has boomed over the last few years in out-of-state tourism which has raised prices for lodging and activities, but that is because the secret of its beauty is finally out. Lift ticket rates at Breck range from $167-$199 for an adult depending on the day, demand, and conditions. These are much steeper than the Loveland rates shown because Breck has much more terrain to offer and has a wider audience as it attracts many Texans and other out-of-state skiers. 
Truths and Tips
In terms of skiing tips, I have a few to share. As you may know, the common starting skier stance is "pizza." This is when you angle your skis towards each other in the front to make it look like a slice of pizza. This form assists beginners in learning how to take wide turns and getting the basic feel of skis. Next, most will advance to "french fries" where your skis are positioned parallel to each other. This is a big shift from pizza because it forces the skier to shift at the hips rather than the legs. "French fries" also helps you balance on steeper or faster sections of slope. As you progress, you will be able to gradually place your skis closer to each other to gain speed, but remember to never cross the tips of your skis which often results in a yard sale. "Yard sailing" is a ski term for when you fall so hard that both of your skis pop off. Every veteran skier can probably vouch for me when I say that yard sailing is the worst because your skis often slide down the mountain away from you. However, some of my most fulfilling moments while skiing were when kind people helped me out by bringing me my skis or poles that flew off. I now pass this unspoken skiing etiquette when I see others fall on the mountain. 
Skiing Isn't for Everyone
Skiing is a way of life for many Coloradans, but it is important to remember that skiing isn't for everyone. You may discover that skiing is not for you and that is completely okay, but I do encourage you to try it. For my first few years of skiing, I was terrified every.single.time I went up the mountain, but after many falls and hours of practice, I have become comfortable with skiing. The moment when you shift from being a scared skier to a confident one, it makes all the difference. But you need to remember that being confident doesn't mean being reckless; ski smart and be aware of your surroundings at all times. Learn what terrain you can and cannot speed on and listen for other people who are skiing around you. At the end of the day, skiing isn't fun when it isn't safe. 
All in all, I may not be the best skier, but I can share the lessons I have learned from my experiences so far. I hope this encourages you to get on the slopes and "shred some gnar"!