The Brian Flores Lawsuit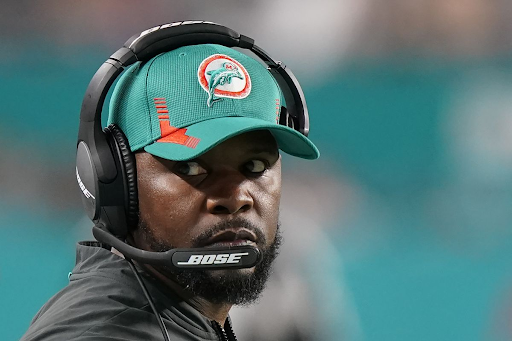 Former Miami Dolphins Head Coach, Brian Flores, sued the NFL company along with three other teams within the NFL: The Giants, The Dolphins, and The Broncos. He was alleging racism in hiring and even a plot to deliberately lose games.  
He's been claiming discrimination by the league. In the league today there is only one black coach out of 32. And in the NFL, 70% of the players are black. 
Flores had a winning record the last two years with a very bad team in Miami. For his first year with Miami in 2019, they won 5 games and lost 11, coming in 4th place in the AFC East. He has a somewhat rough start for his career but it was still pretty good considering just how bad the Dolphins are. For his second year with the team in 2020, he won 10 and lost 6 coming in 2nd in the AFC East. This was a major improvement between the two years. Flores was able to turn a horrible team into a not so bad one. Finally in his third and final year with the Dolphins in 2021 he won 9 and lost 8, coming in 3rd. 
Allegations
Flores has made several allegations throughout the last few weeks relating to many different things. He's claimed that the owner of the Dolphins (Stephen Ross) was paying him to lose games because the more games you lose in the NFL, the higher draft pick you would get. Ross was going to pay him an extra $100,000 each game when they lost. Ross denied these allegations and any others relating to racial discrimination. In an interview he said, "These allegations are false, malicious, and defamatory." The draft is coming in April and they were looking for a Quarterback. If they were able to fall down to last place they could get a really good quarterback that could make them really good. This is somewhat considered cheating as they are purposely trying to lose, when in reality it should be a fair game. This was difficult for Flores to do as his future in the league could be diminished. If he's making the team lose then his resume would look horrible, and make it very difficult for him to get another job. After three years in the position, he was fired, and went home and gathered a lot of evidence in which he could hurt the NFL and its reputation. 
Rooney Rule 
Let's flashback a few decades, so we can realize how big of a deal it is. About 20 years ago, an attorney (Johnnie Cochran) and his law firm brought similar data to the NFL and said that they would sue on black men aspiring to be head coaches in the league unless they could come up with a way to mediate the horrible hiring practices when it came to men of color. Therefore the league developed the Rooney Rule, which basically said when there's an opening for a head coach or top executives with the team, that hiring managers have to bring someone of color into that interview process to make it more equitable. 
In Brain Flores's case, he and another former assistant coach that he worked with under Bill Belichick, Brain Daboll, were both up for the same job with the New York Giants. A couple of days before Flores' interview he got a text from Belichick saying he got the job. After reading that he got super confused as he hadn't even had the interview yet. He then realized that he meant to congratulate Brian Daboll, and that he was going into an interview in which he had no chance of getting since it was already handed to Daboll. 
This showed him that the Rooney Rule was being enforced less and less as the years came. This has most likely happened to many other black men who have also tried to interview but didn't even get the chance. The NFL is in some really hot water right now due to these allegations. 
One thing about the NFL is that they hate being in court. With the Colin Kaepernick case they reached a settlement. Because of the sheer amount of facts this case has, it's going to be very hard for the NFL to get out of it. Not only is this a big deal for the NFL but it's also a big deal for his former team's owner Stephen Ross. Due to his claims that the owner paid him to lose games, this is considered fraud against the public since many people probably tried to bet on the games, and lost due to this cheating the system type of playing. This could cost his ownership of the team. 
Many things are still being discovered about this case, and more information has been coming in daily. As we inquire more information about the issues, we will find out whether the NFL is in the wrong or in the right. Do you think the NFL is in trouble with this lawsuit?