Self-Care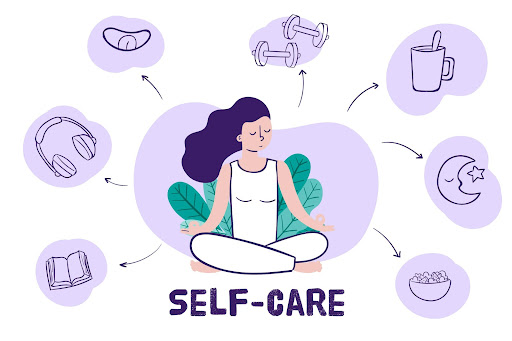 During the past week or so, I've noticed that anxiety and stress is through the roof with all people I talk to. Whether it be stressing for college, tests, work, or extracurriculars, it doesn't matter. People are anxious. Which rightfully so, it's the beginning of a new year. January is just the first free trial of the year, so it doesn't really count in my book. I feel that as humans we hold ourselves to such high expectations for the beginning of any new year and that is why I feel we should take one moment, breath, and take some time for ourselves. In this article, I want to discuss how I personally use self-care in my day to day life.
The Science of Self-Care
To begin, there is plenty of science that can backup why self-care is so important and why it's good for people to help improve their overall mental health. It is easy to assume that when self-care is not evident in day to day life, serious emotional, mental, and physical consequences can take place. Individuals can experience burnout, depression, anxiety, and many more negative emotions as stated by Southern New Hampshire University. Clinically, self-care has proven to help reduce heart disease, stroke, and cancer. 
In addition to that, according to the Substance Abuse and Mental Health Services Administration (SAMHSA), there are eight different categories of wellness that need to be well addressed for good mental health. These "dimensions" are:
Emotional health: feelings, emotions, self-care, stress

Spiritual health: beliefs, involvement, time

Intellectual health: personal interests, education, brain exercise, conversation

Physical health: nutrition, physical activity, sleep, drugs/alcohol, medication safety, preventive medicine

Environmental health: "green living," change of scenery, home and work environment

Financial health: work, checking/savings, debt, retirement

Occupational health: work relationships, balance, accomplishments

Social health: community, new people, social time
Each of these individual dimensions are vital to a person's mental health, and none can be ignored. Even though life can be stressful, it is important to balance each of these so that as people we can grow and improve our mental and physical health.
Self-Care Ideas
Now that there is a general knowledge of how human health works and the benefits that come with self-care, it's good to have ideas of what self-care can look like. Generally, doing what makes you happy is the best kind of self care. Personally, I will play video games, hang out with friends, and watch some of my favorite youtubers in the comfort of my bed. Even taking a shower and getting dressed in the morning is a very important part of self-care.
Read a Book
Do you have a pile of books you say you'll read but never get to? Do you have a favorite book you haven't read in a couple years? Go ahead and read something for yourself. Personally, I am rereading The Hobbit which has always been a favorite of mine. It's a very simple form of self-care used during school. When I have free time or have an off hour, I'll take a moment to immerse myself in the Shire.
Watch Something
Whether you watch a movie by yourself or with some friends, this is an easy way to rejuvenate and give some time to yourself. I personally have tried to watch some type of a movie, youtube video, or TV show every night to get some "me time." I think it's a really nice way to give ourselves some time, but it's important to not feel guilty "being lazy" as sometimes that's the best thing anyone can do.
Exercise
This is a pretty obvious form of self-care, however exercise has been proven to be extremely beneficial for mental and physical health. I personally will do yoga or dance workouts most nights. It truly does make you feel not only in shape, but it makes you feel good as well. A good mindset is put into place (at least for me) when I exercise.
Summary
Of course, this is an extremely short list of self-care ideas. The point of this article all in all was to give a base for people to find their own self-care routine. What is going to work for me is not going to always work for others. It all comes down to what makes you happy, and no list can tell you what is going to make you happy. I hope that this article was a nice starting point for people looking to have a self-care routine.