The Shocking Elizabeth Holmes Case In Full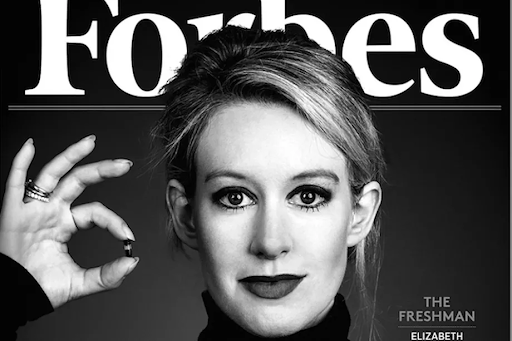 On January 3, 2022, Elizabeth Holmes, the now-infamous founder of the Silicon Valley blood-testing startup Theranos, was found guilty of four fraud charges. This verdict comes after the jury assigned to her case took over 50 hours and 7 days of deliberations, just to decide her fate over 11 charges of fraud. The charges she was found guilty of include three counts of wire fraud and one count of conspiracy to commit wire fraud. These fraud charges come from "lying to investors to raise money for her company." 
The counts in which Ms. Holmes was found "not guilty" include four counts related to defrauding patients and three more relating to deceiving investors. However, this does not lessen the grim outlook on her future, for which each count she was found guilty of carry a maximum of 20 years in prison. The sentencing date is to be determined, but Holmes, 37, is expected to appeal to the court, meaning she will apply to a higher court to reverse the lower court's decision. 
But how did an optimistic young Stanford student and entrepreneur come to this ruin? To start at the beginning, Elizabeth Holmes was a star student from the time she was in primary school. Starting at age 7, when she was already attempting to build time machines, to high school, where she was reportedly a straight-A student. During her high school years, she even started a business selling a code-translating software called C++ compilers to Chinese schools. After high school, Holmes attended Stanford University, where she took assignments such as time at the Singapore Genome Institute (due to her Mandarin-speaking abilities). 
However, the first plot twist comes in 2003 when Holmes dropped out of Stanford at age 19- to start a privately-held healthcare technology company. Theranos was founded on the supposed technological advancement that would also end Holmes' career: A "nanotainer", or basically a finger-prick test. This new technology was boasted to run multiple tests on a patient within minutes, with less blood, and with a cheaper price tag. At the beginning of her company, Holmes became the spokesperson for her entire operation. Many say she took on characteristics similar to Steve Jobs, another successful Silicon Valley startup founder. She even dressed like him in black and gave her company the elements of his secretive operation. 
Before Theranos even went public in 2013, it gained over $1 billion in fundraising and investments. Beginning at this time, Holmes was touted as the world's youngest self-made billionaire. Also during this time, Holmes was dating her co-conspirator, Ramesh Balwani. Balwani was the company's chief operating officer, and now a critical piece of her defense, who accuses him of abuse. This becomes very important within the next two years of the story.
Fundraising for Theranos peaked at $10 billion after it went public, with notable investors coming into the picture, including three former defense secretaries, and even Betsy DeVoss, who invested $100 million in Theranos and sat on the company board. At this time, there's only one way to really describe what she did, which is summed up perfectly by John Bostic (assistant U.S. attorney) in the closing arguments of her recent hearing. "At so many forks in the road, she chose the dishonest path". This path includes lying about the accuracy of the tests, as well as the number of tests her machine could do. She also made misleading claims in contracts and even faked demonstrations. 
These serious allegations are where her defense tries to turn the tables back to Mr. Balwani. Holmes has accused Balwani of sexual/emotional abuse, saying he "controlled every aspect of her life, including her schedule, self-presentation, and time spent with her family". He denies all allegations. Another compelling argument Holmes made essentially claims that she was just the face of her company. She relied on qualified scientists to make judgments about her products. Being the spokesperson for Theranos, she was not making claims on current technology to investors, but rather projections about what their investments would make possible in the future. 
However the story is told from the inside, the series of events still play out the same. Theranos had two very successful years in the limelight before being questioned by the press in 2015. After this, she was ousted by many big news organizations, including the New Yorker and The Wallstreet Journal. By 2016, even a former senior employee had come out and stated that most tests in Theranos labs were actually being run on competing company's machines. That same year her net worth dropped from $4.5 billion to virtually nothing. During this hardship, Holmes was charged with her first counts of fraud, and in 2018, Theranos shut its doors for good. 
Today, Holmes' case serves as a warning to eager investors willing to pour millions into the next big startup, despite obvious red flags. If sentenced to prison, Ms. Holmes would be the most notable female executive to serve time since Martha Stewart did in 2004 after lying to investigators after a stock sale". Probably most importantly, in the end, this case highlights the importance of the difference between the truth and optimistic projections. For Elizabeth Holmes, it's game over, but hopefully, the rest of Silicon Valley heeds the warning.