Democrats Bulldozed in Virginia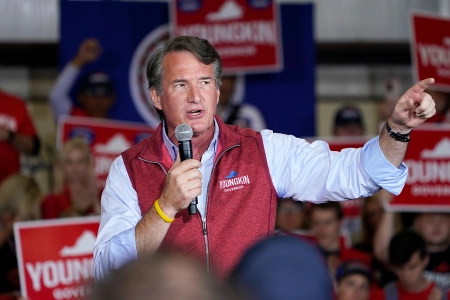 Introduction: 
After the craziness of the 2020 Presidential Election, what other elections would be of significance after Joe Biden's victory and the Georgia Senate Run-Offs? That next election would be set on November 2, 2021. However, this year's electoral focus wasn't on the presidential level, but in the Commonwealth of Virginia. 
To prelude, Virginia has their gubernatorial and statewide elections every four years like numerous other states. On the other hand, Virginia is unique. Virginia holds their gubernatorial elections along with other legislative elections immediately following the year of the presidential election. Therefore, these facts make these races an off-year election because it doesn't occur during a midterm or presidential cycle. This makes the governor race an extreme bellwether for both political parties because these elections illustrate which groups are motivated for the midterms and which party is in trouble for the next cut-throat midterm or presidential  election. Provided with this critical knowledge with the election, who exactly was the victor in this race?
Preview to This Election:
As previously mentioned, Virginia was a key battleground state during the Obama Administration, but hasn't voted for Republican candidates statewide since the year of 2009. This was due to rapid urbanization around the D.C. suburbs along with similar regions trending leftward like Norfolk and Richmond. All of this allowed for Democrats to turn Virginia into a blue state that voted for President Biden by 10.1%. This was also illustrating the critical realignment in the country for both political parties. Democrats became heavily urbanized and worked to get more suburban voters, which gave Biden his victory in 2020. However, this caused them to lose large amounts of rural voters in the process. The panhandle and Appalachia apparatus of Virginia that once voted Democratic are now solidly Republican areas, allured by the Republican Party's embrace of cultural conservatism and growing populism. 
This introduces the candidates for the gubernatorial election. Democrat Terry McAuliffe and Republican Glenn Youngkin. Terry McAuliffe was the former governor of Virginia from 2013-2017, and is mostly known for being heavily involved in Bill Clinton's administration. Republican Glenn Youngkin was part of a private equity group called Carlyle Group becoming Co-CEO. He decided to run for governor and was nominated for the Republican ticket. Other races included the Lieutenant Governor and Attorney General in Virginia. Each race was competitive but most thought that Republicans only had a shot at the governor race. Hence, who won or benefited from election night?
Democratic Disaster:
So what were the results? To put it simply, Democrats got demolished in the state of Virginia and other races across the country. Democrats lost all statewide races in Virginia along with the House of Delegates. Glenn Youngkin won by a net total of +1.9% against Terry McAuliffe. Republicans Winsome Sears and Jason Miyares, running for Lieutenant Governor and Attorney General respectively, also lost as well. Democrats lost their majority in the House of Delegates with Republicans winning by 52-48. Republicans also improved in their margin in every county since the 2020 Presidential Election. Democrats conceded the election results and the Virginia Department of Elections certified the election results of November 15th. 
So what exactly caused Democrats to lose this specific election in an increasing blue state. One of the main reasons was the effectiveness of the Youngkin Campaign. Other reasons include the unpopularity of Joe Biden and his falling approval rating, along with numerous details about parents rights in their children's education. 
Interesting Facts About This Cycle:
Interesting points for this cycle was the surprise of how accurate the polling was in the state of Virginia. There was only a 0.2% error on RealClearPolitics. This was showing that polling might recover in some states due to some reliability as well. Another interesting note is the Lieutenant-Governor-Elect Winsome Sears will be the first black woman to hold statewide office as well as win an election in the state of Virginia as a minority woman.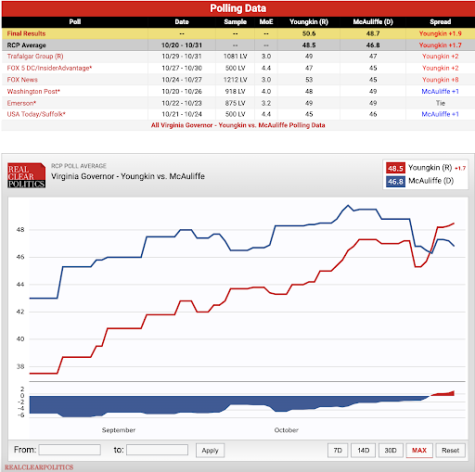 Conclusion / Ramifications for Biden's Presidency and Midterms:
The results are a troubling sign for the Biden Presidency. Halted by a lack of progress on policy along with a huge disapproval rating surging, the Democrats are flailing while their opposition surges for the following midterms. Historically, Democrats will have a much more difficult time in the midterms because they are the party in power and the opposition will usually win this election. The fact that the state of Virginia was even competitive to begin with is a troubling sign for Democrats in states across the country. Virginia will also now have a Republican Governor, along with an increasing Republican influence in the city of Richmond. In conclusion, the main question that Democrats need to be asking themselves is what they are doing wrong and Republicans on what they did correctly for these races in the following midterms. How will these future elections go? Only time will tell.