The History of Skirts Over the Last Century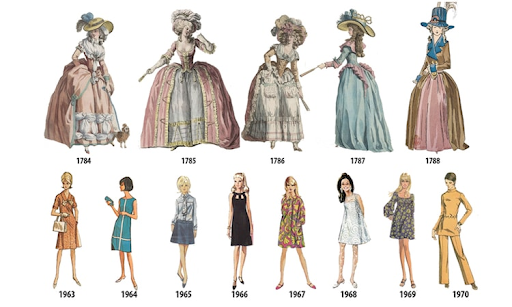 Over the last century skirt trends have dramatically changed as well as the history of the world. As women gained more freedom, they were allowed to express themselves with fashion more than they ever were before. At first skirts were longer and thicker therefore they were more conservative. But as time went on the skirts became shorter and less modest as women were increasingly getting more rights.  
19th Century: 
In the 19th Century women wore corsets along with bell shaped skirts to create the illusion of a tiny waist. Women wore many layers so very little skin was actually showing unlike skirts today. These skirts were largely uncomfortable and restrictive due to all of the layers. Some women also wore skirts that were tighter but they were still ankle length. Women back then didn't show much skin since they didn't have many rights so many feared stepping out of their comfort zone since they could face serious backlash. 
The 1920s: 
The Prohibition Era was filled with knee length skirts. They often wore these skirts with bobbed hair and pearls or beaded jewelry. This was a time of modernity, freedom, and newfound hope for younger generations. Women could drive, smoke, and vote. A major contributor to fashion in this era was Coco Chanel who still remains a household name today. 
The 1930s: 
Once the Great Depression hit in the 1930s, womens fashion returned more to being proper, with showing very little skin. There were natural waistlines, long skirts, and the invention of the halter neck also came into women's wardrobes. There were also frilly bows, ruffles, buttons, and other details often in skirts. Many tried to rebel against these trends by wearing padded clothing which at the time was considered a bold move. 
The 1940s and 1950s: 
The Second World War dramatically impacted the fashion world. Governments slowed down the production of fashion, which made it difficult for women to express themselves through clothing. Womens fashion became more masculine than ever before, with knee length skirts, shirts and jackets since they were expected to work in traditional male roles during the war. Trousers started to become more popular for working conditions. 
The 1960s and 1970s: 
In the 60s and 70s women started to gain more freedom again. Rock and roll was a center stage, therefore womens clothing became more youthful, simple and easy to move in. The skirts became shorter and the mini skirts had a comeback. In the 60s classy women were still wearing the straight fitting stealth skirts or pencils skirts. Some also wore full gathered or pleated swing skirts that were knee length. In the late 70s dark denim and chevron stripe print skirts were very popular. 
The 1980s:
As women started to gain higher positions in the workforce, woemns started wearing power suits with padded shoulders and bold colors. As for skirts, neon colors and animal print designs such as leopard, cheetah, and zebra print were very popular. Fabrics such as denim, leather, nylon, and spandex were also very popular. 
The 1990s: 
Entering the 90s plaid skirts became a really popular style choice for wealthy teens as it was closely related to the grunge trend at the time. The 90s also gave us babydoll dresses, mini kilts, and tiny skirts. Womens skirts from the 50s and 60s also became really popular again. 
The 2000s and 2010s: 
In the 2000s and 2010s mini skirts were very popular. You could find them in any print and any fabric. The most popular fabric for mini skirts at the time was denim. A lot of people liked to layer skirts back then, commonly wearing skirts over jeans or leggings. You could see this trend all over the red carpets as celebrities loved to layer clothing items. 
The 2020s: 
So far in the decade we have seen a variety of skirt trends. Pretty much everything in the past decades is recurring in this decade. Long maxi skirts are becoming more popular as well as midi skirts. Mini skirts are of course still more popular than ever. Pleated skirts are also being worn a lot as it has become a trend to wear them. Skirts can be really tight or really loose. There has also been more fabrics in skirts than ever. Popular fabrics include: corduroy, silk, cotton, leather, denim, and spandex.  
Over the last century skirt trends have dramatically changed as well as the history of the world. As women gained more freedom, they were allowed to express themselves with fashion more than they ever were before. As time has gone on men are now wearing dresses and skirts as well. Celebrities such as Harry Styles and Post Malone have been wearing skirts to show that anyone can wear them.  Skirts are starting to become less of a feminine thing and just more of a style that anyone can wear no matter the gender. Skirts will never leave fashion, it's a trend that will be around forever, it's only what they will look like will change.