Virginia Road Closures Lead to Odd Occurrences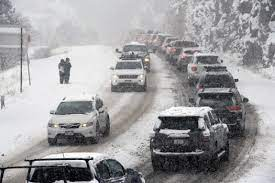 Thousands in Virginia were forced to sit in their cars for over a day after Interstate 95 was shut down due to adverse weather conditions. The roads were closed down to give emergency personnel the opportunity to evacuate vehicles, reduce ice, and assist large trucks. Traffic backups were so bad that everything snowballed (pun intended) into hours of waiting time and no movement. 
How it went down goes as follows: 12 inches of fresh snow dropped Monday morning. After several reports of crashes on the notoriously dangerous interstate, I-95 closed. Many tractor-trailers were jackknifing on the icy roads, causing further backup. Adding to the issue was the stalled cars that ran out of gas while stuck in traffic. 
According to NBC, the closure area spanned a total of 50 miles. Travelers headed both northbound and southbound were impacted by closures. Tow trucks spent hours alleviating the situation, evacuating cars one-by-one. 
Virginia Governor Ralph Northam admitted that more snow came than anticipated. Northam even apologized for the immense inconveniences and struggles at hand, "I am sorry for people that are stranded, but I would ask them to be patient. We're going to get them as soon as we can." 
Some spent the night in their cars, among them was Virginia Senator Tim Kaine, who was stuck for a total of 27 hours. 
What happens when thousands are stranded on icy roads in the middle of winter? The answer is many moments of quirky spontaneity, which are sure to restore one's faith in humanity. 
The Washington Post highlights one of these moments of restored humanity, "Motorists were left to form their own support system, offering one another extra food and bottled water, and turning off their headlights to grant others privacy when relieving themselves along the road as the hours dragged on." 
Another lighthearted aspect of this sticky situation was when a Schmidt Baking Company bread truck decided to open their stock to supply hungry motorists with sustenance. This all stemmed from a couple calling the phone line on the truck and getting permission for the drivers to hand out over 300 packages of bread. 
Displayed on NBC News, 21-year-old Seb Lancaster cited that the backup was like the opening scene from the Hollywood Musical "La La Land," which films stopped cars on a highway with people breaking into joyous song. However, Lancaster noted this real-life scene was not joyous, but depressing. He tweeted, "Cars are stuck, trees are down, there are miles of parked cars scattered unevenly around the massive ice heaps to avoid getting stuck-stuck, making it impossible for any real emergency effort to reach us." 
Although this road closure was a very dangerous and hard situation for thousands of drivers, it showed how people come together in hard circumstances to help one another. Now, the remaining question is how will the Virginia Government treat road conditions from here on?
Sources: 
https://www.nbcnews.com/news/us-news/cars-far-can-see-drivers-stranded-hours-95-virginia-winter-storm-rcna10840#anchor-LikeascenefromLaLaLand
https://wtop.com/traffic/2022/01/the-storm-paralyzed-traffic-on-some-roads/
https://www.washingtonpost.com/transportation/2022/01/04/i-95-shutdown-virginia/
https://www.nytimes.com/2022/01/04/us/i-95-closed-snowstorm-winter.html
https://www.nbcnews.com/news/us-news/cars-far-can-see-drivers-stranded-hours-95-virginia-winter-storm-rcna10840#anchor-LikeascenefromLaLaLand
https://www.nbc12.com/2022/01/04/state-local-officials-respond-people-want-answers-regarding-interstate-95-backup/
https://www.cnbc.com/2022/01/04/sen-tim-kaine-among-hundreds-trapped-in-virginia-snowstorm-traffic-jam.html
https://www.today.com/food/news/local-bakery-truck-gives-bread-stranded-drivers-95-traffic-jam-rcna11075
https://www.denverpost.com/2018/02/10/cities-accident-alert-saturday-snow/