The Boulder Fires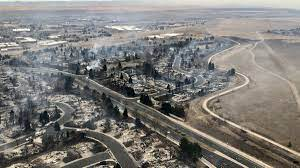 As many know Boulder County has suffered tragedy in the past week. This tragedy is known as the Marshall Fire, which has been named as the most destructive fire in Colorado's history. The fire spans 6,219 acres and about 62% of that perimeter has been contained. The main goal during these trying times is to ensure firefighter and public safety. Another important thing they have to do is minimize impacts to structures and repopulate communities as soon as conditions are safe to do so. Thousands of citizens in the Boulder area that have been affected by the fire or live in areas close to where the fire has been evacuated. These evacuated citizens are not able to re enter Their neighborhoods until they have been deemed as safe. Re-entry is only allowed for limited residents. Crews are working throughout the fire perimeters to remove any areas of heat as well as secure structures and to assess the areas for damage. There are still significant heat signatures around some of the impacted structures. These heat sources can flare up at any point in time, which is why firefighters may need to go around each structure multiple times in order to ensure that there is no hazard. They do this to ensure no reflare of fire on said building, along with no hazard to any other surrounding buildings. This fire has taken everyone through a whirlwind of unexpected tragedy going into the new year. 
The Damage 
On January 1st the Boulder County Sheriff released a list of structures that have been damaged due to the Marshall fire. It is however anticipated that multiple structures will be added to this list as damage assessment teams continue to search through new areas that have potentially been affected by this tragic fire. The winter weather that Colorado has been having is playing a big part in being able to assess the damage done by the fire. The current number of damaged structures in Boulder County read as..
City of Louisville – 553 destroyed, 45 damaged

Town of Superior – 332 destroyed, 60 damaged 

Unincorporated Boulder County – 106 destroyed, 22 damaged

Totals confirmed to date countywide are 991 structures destroyed and 127 structured damaged 
Keep in mind that these are just the structures that have been assessed as of now. There is still so much that is left to uncover on the catastrophes that this fire has brought upon. This fire took out every kind of structure imaginable. It took out thousands of homes, stores, and restaurants that will seemingly impact that of the owners and employees at these stores and restaurants. In order to help with this destruction,  many go fund me pages have been set up to help not only individual families impacted,  but to also help the entire community that has been affected
What Caused These Fires?
It has been stated that the investigation into the origin of the Marshall Fire could take anywhere from weeks to months, however they are "in full force and full swing," said Boulder County Sheriff Joe Pelle. Assisting the local investigators are agents from the Federal Bureau of Investigation, the Bureau of Alcohol, Tobacco, Firearms and Explosives, as well as special investigators from the U.S Forest Service. The community and journalists press are also skeptical as if a single person or group nwere responsible for starting this fire that quickly spread across more than 6,000 acres. Pelle also states that he feels as though people are going to lose their patience because he will ensure the integrity of the investigation remains intact. "It's going to take a while. And we're going to get the right people with the right expertise. The snow's going to melt. We're going to be able to see better. Things are going to happen," Pelle said. "So, we're going to do it well and we're going to take our time and be methodical because the stakes are huge." Although many speculations arise around times of tragedy there is no true way to be able to tell what or who may have caused these fires until the teams continue to investigate and get to the bottom of this, no matter how long it may take. 
In conclusion these Boulder fires also better known as the Marshall Fire have sparked much heartbreak in many lives around the Boulder County area, affecting many different lives in a variety of ways. For now victims are focussing on rebuilding their lives with the little or nothing they have left. There are many things that we can do to help out these people in fixing their lives. There are also a variety of resources that you are able to use to report anything about this fire, as well as to check what structures have been damaged as well as evacuation maps.