2021-2022 Winter Fashion Trends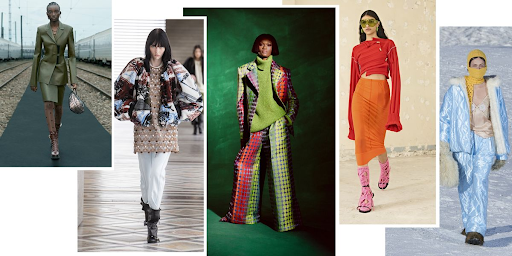 This winter, a variety of different fashion trends will emerge. There is expected to be a lot of crazy prints and styles coming out this year. Celebrities have already been seen wearing these trends as they have been very apparent on the runways. Brands such as Christian Dior, Versace, Gucci, Dolce & Gabbana, Fendi, along many others have been putting these looks on their runways. Trends that I will talk about today will be Geometric Prints, Color Clashing, Monochrome, Ski Fashion, and Cutouts. Now let's get into it!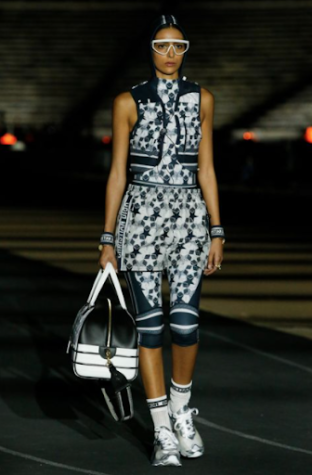 Geometric Prints: Geometric prints will be everywhere this winter in all shapes and colors. You can go very bold with bright colors and a bold pattern such as big circles, squares, triangles, etc. Some patterns are a lot more out there than others, but then there are some that go more tame with a black and white print. But I would suggest if you don't want to wear something really out there like a lot of these prints then I would go with a tamer pattern. This trend was very prominent during Milan Fashion week as it was seen on the Versace, Christian Dior, and Christopher Kane runways. 
Color Clash/Monochrome: If I had to describe what color clashing was in the simplest terms, I would say its items of clothing that you wouldn't think would go together. Color clashing is all about mixing colors that don't necessarily go together. Some examples of color clashing is red and blue, blue and green, pink and purple, yellow and green, etc. This has been worn by celebrities like Heidi Klum, Megan Markle, Katy Perry, etc. Going along with the color scheme, monochrome is also very popular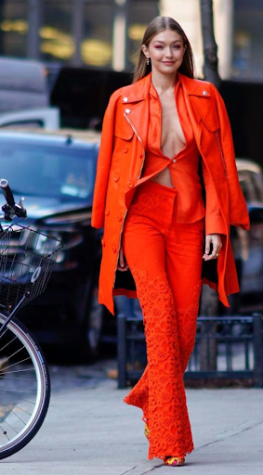 once again. As it has been a very popular trend since the fall of 2016 when brands like Gucci and Loewe sent monochrome outfits out on their runways. In the most recent runway shows it seems as if monochrome is nowhere near to going away. Brands like Max Mara, Courreges, Versace, Blumarine, Chloe, and MSGM have had a lot of monochrome in their shows. The amazing thing about this trend is that anyone can wear it, even if you aren't the most fashion savvy. This is the easiest trend because it's all one color, in this case there is no miss matching because it would simply be impossible to do so. If you want to start pushing your fashion boundaries but still not go full out there then I would highly suggest this trend. Many celebrities have also been rocking this look such as Kendall Jenner, Gigi Hadid, Jessica Alba, Blake Lively, and Jennifer Lopez just to name a few. 
Ski Fashion: No matter if you live in sunny California or snowy Colorado during the winter, ski fashion is for every location. Although you might get a little hot wearing this type of fashion in a warmer climate, it is still a must for the winter season. Winter fashion includes big fur and puffy coats, sweaters, wool material, and furry boots. Pretty much if you were to go up to a skiing town that is what skii fashion is. This trend was found on runways such as Dolce & Gabbana, Chanel, and Miu Miu. 
Cutouts: Cutouts are also staying widely popular. Cutouts have always been popular but this year it is expected for this trend to gain even more traction. Cutouts are a fashion trend where there are holes strategically placed on the shirt, pants, jacket, etc. Some cutouts can be bigger and more revealing than others, but some can also be very modest and not as revealing. Designers

have been coming up with a way for there to still be cutouts during the winter season since it is getting colder. And they did just that, now there are more cutout options with long sleeves and sweaters than there were before. Cutout clothing items come in a variety of different colors, patterns, and clothing items. If you are looking for something more simple but still very chic this is a very good option for you. This has been seen a lot at Coperni, The Michael Kors Collection, Mugler, Dion Lee, and more. 
There are so many fashion trends that will be very present this winter season. Trends like Geometric Patterns, Color Clashing, Monochrome, Ski Fashion, and Cutouts will be very prominent. But there will also be some more trends that I didn't mention such as Glitter Prints, Plaid Mini Skirts, Shiny Clothing, Suits, and Layered Clothing. Fashion will always be evolving so trends will always appear and disappear very quickly. Do you think any of these trends are here to stay for good?