How To Prepare for College Applications in High School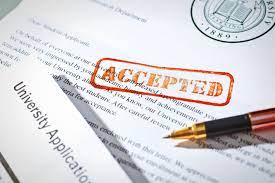 With the end of the semester coming up, SATs are right around the corner! Although this statistic is becoming increasingly controversial and useless, many students are still expected to take the standardized SAT or ACT. Adding on to the stress from that test, juniors are trying to balance hard classes, jobs, athletics, extracurriculars, and other stressors whilst preparing for the college application process. In this article, I hope to inform juniors and underclassmen in high school on some helpful tips that will make college prep much easier, and the overall process much less stressful! 
Small Steps First: Breathe.
To begin, a common stressor for juniors especially is where they start with the college researching and planning process. They often ask, "Where do I want to go for college?" or, "What do I want to do?" This theme of uncertainty about the future makes students panic. In reality, it is OKAY to not know what you are doing, or where you want to go. It is OKAY to not have your life planned out from start to finish. That is one of the best things about life, it is always changing and bringing unexpected miracles. It is better to just ride the waves and take it one step at a time. 
Big Tip: Create a Personal "Brag" Resume.
Many students accomplish many successes during their high school career. Yet, by the time it comes to college applications they have forgotten what they have been awarded or accomplished. A very helpful solution to this issue is to create a list or resume of all of your personal accomplishments. This is essentially a "brag" list that can include things like academic awards, letters of recommendation, community service, leadership positions, and other extracurricular achievements. For many it can be hard to brag about themselves, but this list helps students maintain organization for what to put on college applications. 
Make a Plan: Research your College Requirements.
With their focus on graduating high school, something many students forget to consider is making sure they meet college acceptance requirements in addition to their own high school's guidelines. For example, students need a total of 23 credits to graduate from Horizon High School and 2 of those credits must be Fine and Practical Arts, however certain majors at college will require more than 2 Fine and Practical Arts credits. It is important that high schoolers research different college admission requirements, especially specific to their preferred subject, prior to signing up for their high school classes. For example, if you are looking into a career in math or science, it is smart to take a math and science class all four years of high school. A master schedule of sorts would work quite well to help assist students in laying out all of their classes in order to meet credit requirements. Make sure that you consider future years of high school when signing up for your junior year classes. 
It is additionally essential to figure out if your desired university requires a standardized test like the SAT or ACT in order to apply. Some universities may even request that you complete an alumni interview during the application process. Going back to the SAT, this test is very stressful for all high school students. Tips gathered to help with SAT stress are linked here, offered by students who have taken the test. But in short these tips include getting a tutor, studying on Khan Academy, taking PSATS (often offered by school), getting sufficient sleep the night before the test, and reviewing old math content.
Words of Advice
It is important for high schoolers to discuss future plans with their guidance counselor who can give specific and expert advice. My best advice is that it is never a bad idea to start preparing for college early. Do research on colleges to see what activities, majors, and programs each has to offer you. Consider what might be the best path for you. For example, circumstances of the COVID-19 pandemic led many students to take a gap year after high school. This route may seem beneficial for many students who still want to save up money or even discover what their passions are. 
At the same time, junior year of high school is a good time to also ponder on if you would be interested in going to trade school, the military, or other alternatives to undergrad universities. A crucial action to be taken if you are looking at receiving scholarships such as the Boettcher Scholarship (if you want to attend a local college) is doing essays and/or internships the summer before senior year. Best advice, get a head start on applications by reaching out to admissions counselors and your own high school guidance counselors. 
Although the college application process can be very stressful, there are many ways to ease that stress. Make sure you get a head start on college preparations by planning schedules ahead, researching requirements, and creating a personal resume. These tips will greatly help you when it comes time to apply to colleges at the beginning of senior year!