Under the Helmet: The Legacy of Boba Fett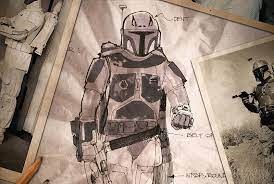 November has definitely been "the month" for Boba Fett. With the trailer for The Book of Boba Fett being released at the beginning of the month. Then on Disney+ day, November 12th, we got a short documentary about Boba Fett. As disappointing as it was to only be getting one piece of Star Wars content on Disney+ day it was an amazing surprise that we got. 
In the documentary Under the Helmet: The Legacy of Boba Fett we were able to get a dive into the past of Boba Fett from his character design to his first appearance. For anyone who is unaware who Boba Fett is, he is a character from Star Wars. More specifically, Boba Fett is a Bounty Hunter who first made an appearance in the Star Wars Christmas Special but is more famously known for appearing in The Empire Strikes Back. When he appeared in The Empire Strikes Back, he had only four lines and just over six minutes of screentime. Although, since then his character has only become more famous as more fans learn his name. This documentary was wonderful as it gave us a glimpse into the past of one of the galaxy's best hunters. 
Moving back to the Documentary, it started with George Lucus, the creator of star wars, and several other people who played a part in Boba's character design discussing things about Boba Fett. They mention past projects he has shown up in, such as the Clone Wars TV show and The Mandalorian, as well as projects he will be showing up in in the future, such as The Book of Boba Fett. Along with this they also talked about where Boba Fett came from. 
Originally, Boba Fett wasn't meant to be just one guy. Instead the creators wanted to make an entire army of "Super Troopers". However, their budget for the movie got in the way and so they were only able to make one suit of armor. From there they had to make a new character and that's where Boba Fett came from. No matter what the outcome was for them, George Lucus wanted something that fans had never seen before with Star Wars. After it was decided that Boba Fett was going to be a Bounty Hunter, they changed the armor from pure white to the colors that Boba Fett has, green, red, and yellow, now to make him more ruggish. 
From there the documentary starts to talk about how fans reacted to this new character. When Boba Fett had first made an appearance people were rather shocked but it was in a very positive way. Something that made him very mysterious was how in the films you never see his face. Also, with his little screen time and dialogue fans were intrigued as to why this character was so anonymous. This has always captured fans with Star Wars as people loved Darth Vader, who never showed his face, as well as Din Djarin aka The Mandalorian as, during almost all of the first season, he never showed his face either. 
After that, Star Wars creators then start discussing the person that was in the Boba Fett suit during The Empire Strikes Back and Return of the Jedi. Boba Fett was physically played by Jeremy Bulloch who unfortunately passed away December of 2020. The reason Jeremy was given this role was because his half brother, Robert Watts, was a producer and he called him and told him that he should try for this role. So Jeremy came to the studio and tried on the armor to find that it fit him perfectly. And Jeremy played Boba Fett perfectly. He was able to capture the western Bounty Hunter walk and posture making him the perfect man for the job. The armor has also been worn by several others most of whom were stunt doubles but Jeremy Bulloch will always be remembered as the original Boba Fett. 
This documentary was an amazing way to hype fans up even more for the show The Book of Boba Fett. Peeking into Boba Fett's origins was wonderful and it's truly amazing to see how a character that wasn't meant to be so memorable became one of the most iconic Star Wars characters right next to Darth Vader and Obi-Wan Kenobi. The next Boba Fett content we are getting is The Book of Boba Fett on December 29th which feels so far away but, until then, may the force be with you!