Braving the World Series: Atlanta takes the Title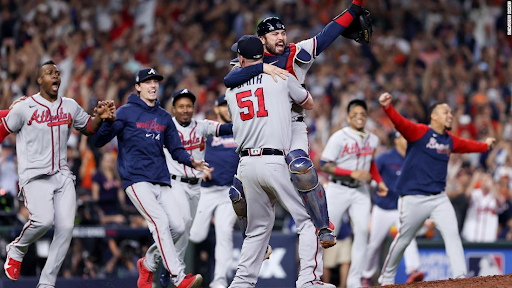 The Atlanta Braves won their First World Series title since 1995 after defeating the Houston Astros 7-0 in Game 6 at Minute Maid Park. The series went 4-2 with strong pitching and big home runs by some star players. 
Star first baseman Freddie Freeman, who is also nicknamed one of the nicest guys in the league got his first World Series win. In an interview he said, "I'm still numb. I don't really have any emotions. I'm kind of trying to tell you guys things of how I feel because I don't really feel anything yet. It's going to hit hard soon. I don't know when. Maybe it's when we get to see everybody in Atlanta." Fans have loved being able to see Freeman win a world series since he has absolutely deserved it for a long time. 
In the final game the Braves homered their way to an early lead. In the top of the third, Braves Jorge Soler hammered a pitch from Astros starting pitcher Luis Garcia for a three run home run getting Ozzie Albies and Eddie Rosario to round home. Soler played very well in this series and was even named MVP in his second World Series Win. He won his first World Series win with the Chicago Cubs in 2016.  
The Braves lead was up to 5-0 at the top of the fifth when Braves Dansby Swanson had a two-run homer off of Astros Reliever Cristian Javier. One out later, Freeman doubled, and Soler walked, making the score 6-0. In the top of the seventh inning Freeman had a solo homer off of Ryne Stanek making the score 7-0. 
Not only did they win because of the immense amount of homers but the pitching was also incredible. Atlanta starting pitcher Max Fried struck out six in six innings giving up only four singles. Two of the base runners got out on double plays. 
"His fastball was really good and the slider," Astros leadoff hitter Jose Altuve said. "He was way better than the first game. He pitched well. He didn't use his curveball too much tonight, but fastball, slider, and changeup was really good. He was almost unhittable."
Relief pitchers Tyler Matzek and Will Smith pitched the final three innings. In total, the three pitchers struck out 10, threw 121 pitches, and two-thirds of them were strikes. The Astros didn't have a good game with only six hits, all singles, and just three at-bats with runners in scoring position. 
Crowd Reception: 
The crowd reception was overwhelmingly in the Braves favor. After the Astros scandal in 2017 which resulted from a series of rule violations by members of the team by using technology to steal signs and then hitting trash cans to tell the hitter what the pitcher was going to throw. The different bangs would mean something different. After this occurred every fan in the MLB was very mad at them and they still get booed to this day. Yes, the Astros did cheat but they also had a lot of star power on the team. When the Braves won everyone was very happy since they couldn't let the Astros win another World Series Championship. 
It has been a long time since the Braves were in the World Series. The last time was in 1995 when they beat the Cleveland Indians. This will be Atlantas fourth World Series title and hopefully there is more to come for them. 
Overall, the Braves played extremely well in this series and they proved that they are better than the Astros. It was really exciting to see Freddie Freeman get his first well deserved ring along with many others. Congratulations to the Atlanta Braves.